. W
The very first thing I did on my very first day back to work this year was gain a qualification. After a couple of hours' training in the rain I am now proudly a qualified pilot for Inverness based cycle charity Spokes for Folks. My first outing with real, live passengers is on Friday morning – watch out for us and wish me luck! My pathetic fingers (more used to typing than to bike mechanics) struggled to release the parking brake. Friday's might be a very short trip…
If you've not been out and about in Inverness recently, you might have missed all the excitement. Originally launched as part of the global Cycling Without Age network, Spokes for Folks offer free and sociable trike rides around the streets and parks of the Highland Capital for all who would benefit. Since their launch in May 2018 they have taken over 3500 passengers from care homes, day centres, Highland Hospice and Raigmore Hospital on 600+ outings, sometimes accompanied by nursery children too. It allows those who spend most of their time indoors to get outside and feel the wind in their hair. It helps combat isolation and loneliness too.
The charity launched with a single trike and now boasts six 'trishaw taxis', with a seventh on the way. All are electric-assisted bikes, helping the volunteer pilots to pedal around the city with ease. Each has comfortable, safe seating for two adult passengers (nursery kids can sit on knees) and a brand new bike, just arrived last week, can carry a wheelchair. The trikes are rarely idle – a rota is in place to take passengers out for daily morning or afternoon rides all year round, and in summer there are evening outings too. Demand is pleasingly high.
A timely refresher on how to feed the ducks…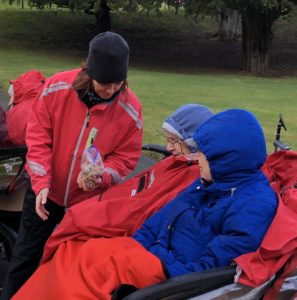 The trikes' panniers carry warm blankets, woolly hats, gloves and waterproof ponchos to keep passengers snug and dry in all weathers, and there are weather-proof, cosy covers and rain hoods in case of showers. It was raining on the morning of my training but that didn't put John and Irene off their piloting duties. We bumped into them and their Mackenzie Centre passengers and got a timely refresher on how to feed the ducks… bird food is another essential part of each trike's kit. There's nothing that hasn't been properly thought through.
Fresh air is good for us – we know this. Even on a grey day a glimpse of the sky, the sight of the trees, the sound of the birds or the rush of the river on its way through town can all do wonders to lift the spirits. Spokes for Folks don't just know the theory of this, they witness it on every ride, and they hear it in the feedback they get from staff and from passengers' families.
Our trainer Mick Heath, co-founder of the project along with Cairn Medical Practice GP Dr Katie Walter, overflows with stories of the impact the rides have: a gentleman for whom every bird or animal on his trips is a trigger for a new song – 'Run, Rabbit Run' and Al Jolson's 'Swanee' are favourites – and a lady whose 'default setting' is, they are told, intense agitation, but who, on 'trike' days, shows excited anticipation and happiness, and is calm and tranquil for hours afterwards.
There's space for more volunteers…
The volunteer pilots and bike mechanics – there are already over 100 on the books, but there's space for more – clearly love their roles too. It's a win-win.
The trikes are substantial, and expensive to buy and maintain, but funding has come from Highland Council, Sustrans, Inverness Common Good Fund, The Highland Cross and from individuals, families and other fundraising – donations are always welcome. But if Inverness can do it, then so can other places across Highland and Moray. Several other communities are getting organised; Cromarty Care Project already have two trikes in action around the Black Isle village.
For Mick and Katie and the other drivers behind the Inverness scheme, the trikes are just the tip of the iceberg. Together they are actively campaigning for better cycle paths and off-road networks across the city and Highland, and they support the WheelNess and Bespoked projects to improve people's health and happiness by assisting them to cycle. Katie was instrumental in Highland Home Carers being issued with e-bikes or folding bikes, helping them to travel more easily and efficiently between patients.
There is a huge amount of community goodwill for the project – I witnessed that on Monday morning with waves from passers by and generously wide berths from drivers, even though my passenger seats were empty. And even the training lifted my spirits and energised me for the rest of the day. I can't wait to get properly started!
To be kept up to date with my posts every week, enter your email address here. No cost, no spam, no ads, no sales pitch, no hassle… I promise.
Any thoughts/feedback? For that or anything else, contact me here.