Staying Cash-positive in Inflationary Times
"These days I can measure someone's happiness by how long they have left on their fixed-rate mortgage."
Those words, from the Financial Times' Consumer Editor and economist Claer Barrett, at a business event in Inverness last week, raised a wry, nervous laugh around the room. It was relatable, accurate, and a little too close to the bone.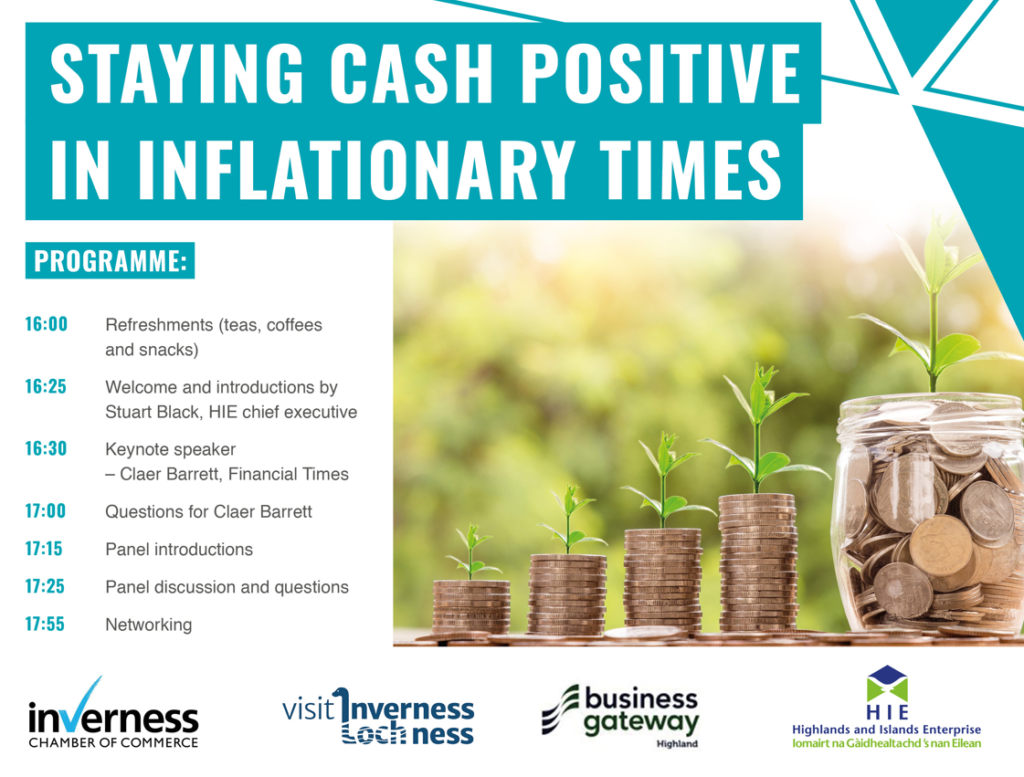 In the interests of full disclosure, we've a year left on hours. After that? Who knows what we'll be paying. In the meantime, I'll keep my head down, keep working, and keep my fingers crossed that it doesn't get any worse. You too? Thought so.
So much has – quite rightly – been written and said about the cost-of-living crisis and its devastating impact on families, and individuals. Last week's event aimed to highlight the struggles of SMEs, which are regularly lauded as the backbone of the UK economy.
Organised by HIE, with support from Inverness Chamber, Visit Inverness Loch Ness, and Business Gateway, it started upbeat, with an 'I don't do doom' declaration from Barrett. The title was upbeat too – 'Staying Cash Positive in Inflationary Times.'
Highland SMEs – 'Never say Die'
We Highland companies were applauded for having a tenacious 'never say die' attitude to business, and for our ability to pivot to offer new services. We were praised for our resilience and adaptability, and for seeking pragmatic approaches to challenges.
So far, so good.
But no matter how positive, adaptable, pragmatic, resilient, and tenacious business owners continue to be, there is – unfortunately, and as Barrett admitted – no magic wand. The challenges just keep raining down.
Still reeling after the twin effects of Brexit and the pandemic, many face crippling staff shortages. There's little or no affordable accommodation to allow potential new staff to relocate to fill the hundreds of vacant positions in hospitality, and existing staff are seeking pay increases in line with public sector demands.
"Be more strategic!"
Across the board it's not a wholly optimistic picture.
Guests at the event ranged from self-employed sole traders like me, through to small and larger-scale operators in sectors including tourism, food production, hospitality, tech, and events.
Large or small, businesses are facing the same increased energy costs as families are, and the same rising interest rates on loans. As the cost of doing business soars, the squeeze is real.
'Work smarter, not harder', was Barrett's encouragement, along with the invitation to 'be more strategic'. Sometimes that's easier said than done.
Cash-flow is king
Cash-flow is a real issue; some multi-national clients routinely refuse to pay invoices until 160 or 180 days have lapsed. And while Invoice Financing was offered from the podium as a solution, that comes at a 10-15% cost to business, digging even further into profitability.
One tourism business talked of future uncertainty caused by holidaymakers' apparent reluctance to book ahead. A diverse hospitality business, with proven need – and planning permission – to expand, can't get the finance to do so, as banks are unwilling to lend.
And a food producer talked of crops potentially rotting in fields, with no staff to pick them. Locals aren't interested in the work, and imported workers are returning to war-torn Ukraine or to the Philippines, rather than pay our crippling rates of tax.
Crucially, those who have diversified their businesses to offer self-catering accommodation are being hit by new punitive licensing regulations. A clumsy, broad-brush approach by the Scottish Government, designed to protect Edinburgh city centre from becoming one giant Air B'n'B resort, will kill the holiday-let livelihoods of many in fragile rural areas.
But will anyone listen?
The purpose of last week's event was twofold. First, for Claer Bartlett to provide practical and financial advice for those of us who run our own enterprises, and there were some real gems to tuck away. Thank you.
And the second purpose, was for Barrett to return to London with a folio of stories and the challenges of running an SME in the north to highlight our particular difficulties on a national stage. If it's in the FT, might politicians, decision-makers, and big-businesses (the ones sitting on unpaid invoices for six months) sit up and listen?
I hope so, but I fear any such stories will fall on deaf ears.
Holyrood pointedly ignored the many representations made to it by landlords about short-term let licensing, and the Westminster Government is well known for favouring big business and the banks – the very institutions that often stand in the way of SMEs thriving.
Do they care what happens outside their self-interested bubbles? I won't hold my breath.
This column is published by Highland News and Media in newspapers across the north of Scotland. If you can, please support print media and the future of independent  journalism by buying a paper, or subscribing online. 
If you'd like to receive it by email every week, sign up free. Just pop your email address into the widget on my home page here. And feel free to share!