Crikey, is football always this good?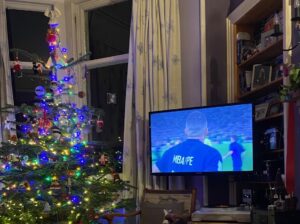 I didn't mean to watch the final of the World Cup on Sunday afternoon – I intended just to have it on in the background while I wallowed on the settee in recovery mode. But my attempts to recharge after a shockingly indulgent Friday night, then dining, drinking, and dancing again on Saturday (I'm not proud, but it is Christmas) were thwarted by a carefully curated selection of talented young athletes in Qatar.
I don't follow football. I've never followed football. My Dad was more of an armchair athletics fan. Ski Sunday was our family religion during winter months, and I had a poster of Swedish Slalom king Ingemar Stenmark on my bedroom wall, just beside my Abba poster.
There's not been much football on our telly since I shacked up with Mr Marr either. He seems incapable of even feigning interest when it comes to 22 men (or women) and a round ball. So, I don't have the passion, the investment, or the understanding of the offside rule that others profess. Nor can I comprehend why players are paid so much, compared to nurses, teachers, doctors, and railway workers.
Losing my footballing virginity at Ross County
When it came out on Radio Scotland that I'd never been to a football match, I was challenged to report on the next Highland Derby. I turned up at what I'd thought was called Victoria Park, but which appeared to have been renamed the Global Energy Stadium. And I prepared to be entertained. To 'get it'. To be swept up in the excitement and passion that grips a huge percentage of the nation and consumes an inordinate percentage of the BBC's budgets.
Underwhelmed just doesn't come close. Apart from some tremendous drumming and singing from the Jail End (which I had to ask them to censor so I could record it for broadcast) it was a case of the ball being kicked this way, then that, then back up our end again…
County fans, buoyed by their team's recent victory in (I think!) the League Cup, were hoping for more of the same. Instead, as the players failed to recreate the magic of their last match, the drumming silenced. Fans' heads fell. The players' heads fell too. It was awkward. Uncomfortable. The family beside us left early. I didn't even really like the pie.
Drama, passion, emotion, excitement
But on Sunday afternoon, with the fire on, a blanket, and a restorative mug of tea, my best attempts to doze were thwarted.
Frankly, the commentary was awful, but there was sensational drama. The emotion of the crowd. The passion of the players. The goals, the extra time, the yellow cards, the penalties.
I had no skin in the game; no office sweepie, no real preference for who should win the coveted trophy. From behind my blanket, I couldn't not watch. Neglected, the fire burned itself out.
'So, is football always this good?' I asked on social media. Apparently, it's not. I've stood myself down. Normal service will be resumed, at least until 2026.
Holding on to memories
I have 16,595 photos in my phone. The most recent is of the faulty manifold for our underfloor heating; the first dates back to my birthday in 2010. Every now and again I try to edit them, but the memories are too precious to delete. As my actual memory is beginning to fail me, I become more and more attached to these digital ones.
But the irony is that these photos don't capture the best memories of all, because those are the ones that I was too busy living, and loving, to pause and think to whip my phone out.
Last weekend was a case in point – Friday and Saturday evenings, both spent in the most excellent company, and not a single snap to show for it.
How do we – and should we – hang on to the memories of the times that are most precious? Any advice will be gratefully received.
A (Snow) Dog's Life
Scottish adventurer and film maker Gordon Buchanan travelled to the Yukon to learn how to master the skill of dogsledding.
The resulting 'Snow Dogs: Into the Wild' is a stunning, hour-long documentary about nature, wilderness, our connection with animals, and our place on this planet. It's on iPlayer, and I think you'll find it heart-warming, honest, and thought-provoking. I now really want a husky.
It also reminded me that the Cairngorm Sled-dog Centre was forced to close a few years ago because of a lack of consistent snow cover. A timely reminder of what we need to pay attention to.
This column is published by Highland News and Media in newspapers across the north of Scotland. If you can, please support print media and the future of independent  journalism by buying a paper, or subscribing online. 
If you'd like to receive it by email every week, sign up free. Just pop your email address into the widget on my home page here. And feel free to share!