Christmas is a time for traditions. If you don't believe me, just ask yourself what your plans are for this year, and then compare them against what you did last year, or against what you did when you were a kid. There will be differences as the years roll on; new faces round the table, or empty chairs where friends and family members once sat. For some families it will be a first Christmas – a happy occasion, like a first Christmas with a new baby, in a new house or in a new relationship. For others the firsts will be ones of sadness. But amongst all the changes there will be comfort in traditions.
Cooking for family and friends is a central component to most of my own festive traditions, and the same recipes are wheeled out year on year. Our table always bears a roast bird and more roast potatoes than we could possibly eat – the same starters and puddings come back too, usually by request. There's always more wine than we will open, and it's not officially Christmas unless someone melts their glasses or is burned by the wax from one of the far-too-many candles I insist we light. But lighting them is just what I do – and I do it because it's Christmas.
Music is important too. There's reassurance in hearing the same songs every year, even if I feel old when I realise Wham have been frolicking in the snow to the sounds of 'Last Christmas' for 35 years, and that Chris Rea started 'Driving Home for Christmas' in 1988. But can you imagine Christmas without them?
Opening the box of decorations opens the door to memories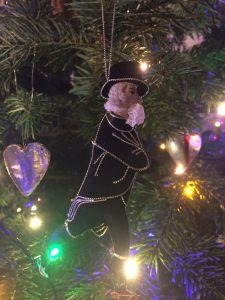 I love mis-matched decorations, mainly because of the memories of people and places that they invoke. It seemed crazy to be buying a Christmas moose on holiday in July 2009, but hanging him on the tree last Saturday I was taken straight back to our first Big Family Holiday, and to the Lost River Gorge gift shop in New Hampshire.
Similarly, the stuffed-felt figure of Raeburn's 'Skating Minister' reminds me of the weekend a few years before that when we booked a Travelodge in the early days of Edinburgh's Christmas Markets. Mr Marr was far too chicken to go on the rides – the girls and I giggled and waved as we got giddier and giddier.
But my favourite decoration is home-made. Grinning manically down at us from the top of our tree is an angel who has held that spot for 18 years. She's a masterpiece in mixed-media; paper plate, felt pen, glue and glitter, and was made by Daughter #2 at nursery. I suspect she'll outlive us all.
As well as being the same, each Christmas is slightly different
But as well as being reassuringly similar, every Christmas is slightly different. This Christmas morning it will just be the four of us at home. With the other three Marrs living away from Inverness it seemed like the ideal way to regroup.
When the Big Day dawns, the first up (it's bound to be me – I'll be too excited to sleep) will make tea and wake the others, and stockings will be opened in our bed. The girls, now in their 20s, will still climb in at the foot of the bed. The rule for going into the living room 'to see if Santa has been' is that the smallest in the family goes first. This year that will be me. That hasn't been the case in my living memory.
I'll probably suggest a new tradition of going for a Christmas Day wet-suit swim, but I'll have an uphill struggle in persuading anyone to join me, even if I offer to lace the post-swim hot chocolate with Bailey's. But we'll still eat too much and play board games. Drag Queen Bingo was a surprising hit in 2018.
I don't remember the presents – I remember the fun we had
What strikes me when I think of Christmases past, is not the presents we gave or received, but the fun we have had. Our traditions are all about the people round the table; the conversations, the laughter, (the occasional argument), and the games we have played. Last year's inter-family ski-helmeted
arm-wrestling championships must rank among the best of the Christmas games – it will be a while before that's beaten.
Whatever you are doing this Christmas, I sincerely hope it's a happy one. The phrase 'making memories' is twee enough to make my skin crawl, but in essence, that's what Christmas is about. Embrace it. Go with the flow. And have another glass of Prosecco, you deserve it. Happy Christmas!
To be kept up to date with my posts every week, enter your details here. No cost, no spam, no ads, no hassle… I promise.
Any thoughts/feedback? For that or anything else, contact me here.