Ghillie's love letter to the Highlands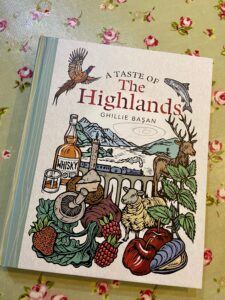 The thing about recipe books is that even when your kitchen shelves are overflowing, even with the unlimited foodie inspiration of the entire internet in your pocket, there is always room for another cookbook. And the newest is usually the favourite.
That rule certainly applies to the newest to arrive in our household – the beautifully written, wonderfully illustrated, 'A Taste of the Highlands' from the award-winning food writer, cook and workshop host, Ghillie Basan.
A love letter to the Highlands
Don't be fooled. 'A Taste of the Highlands' is so much more than a recipe book. It's a love letter to the Highlands, to Ghillie's home in the depths of the Cairngorm National Park, and to the amazing natural larder given to us by the land and the sea. It's a thank you letter to the crofters and coffee roasters, distillers and brewers, farmers, cheese makers and bakers, who use their skills to enhance this natural larder. It's a book that makes me feel lucky to live here.
As a fan of Ghillie's Instagram account I watched this new book develop. When lockdown restrictions allowed, she criss-crossed the Highlands and Moray, travelling from Caithness to Campbeltown, from Wester Ross to Fochabers, and from Alvie to Ardgay. Ghillie met growers and producers and collected recipes and ideas, but she also collected stories. And it's these characters, and their stories, as much as the tastes and techniques in her recipes, that add a depth of flavour to this book. There's alchemy in the recipes, that goes without saying, but the real magic is in the writing in between.
So, what to make first?
So, what to make first? Bad Girl Bakery's Raspberry and White Chocolate Cookie Bars will go on heavy rotation, and I'm keen to marinate a rump steak in Benromach whisky, as recommended by Jock from MacBeth's butcher.
Food for free? I'm going to gather some of the berries I see on my walks to try Rowan and Rosehip Jelly – good for a Victoria sponge, do you think? And I must make nettle soup when the plant's tips are young and nutritious next spring. I'm assured it won't sting on the way down.
'A Taste of the Highlands' is a book about respecting our culinary past and honouring our abundant natural larder. It's about dumplings and fruit cakes, wild garlic and seafood, smoking fish, and potting meats. It's a plea to waste nothing; try pickling beetroot stems and making crowdie. Even salmon skins can be cured and made into leather.
Food is more than just fuel
This book is a reminder that food is about more than just calories and fuel. It's about terroir – our connection to a place. It's about sharing our table with the people we love. It's about the immense pleasure it can give as it sustains us. It's about stories after dinner, in front of the fire, with a dram.
Brother Michael from Pluscarden Abbey just beams from the page as he shares his recipe for Apple Vesuvius. I have all the ingredients in my cupboard. We're having it for pudding tonight.
Best laid plans…
The last time I wrote we were planning to kayak from Harris to Taransay. The weather had other ideas. In fact, it laughed in our faces, pouring lashing rain and 30mph winds onto our flimsy plans. If we'd managed out beyond the breakers (highly unlikely) we'd have washed ashore on St Kilda. Unless, of course, we'd been dashed against the rocks of the Flannan Isles on the way.
There is something about the sheer effort that some Scottish Island holidays demand, that makes them all the more memorable, and – paradoxically – all the more relaxing. It's hard to think about looming work deadlines when you're being stand-blasted by the pristine white sands of Luskentyre. It's hard to worry about email backlogs when you are trying – for the third time that day – to get boots and waterproofs dried in a van.
Harris, Uist, we loved you. See you again soon.
Highland Hospitality? Not if you're in a motorhome…
The 'Motorhomes in the Highlands' debate rumbles on. Tempers are flaring. This level of animosity is not good for anyone.
We spent last week in our van, spending money with Calmac, West and North Harris Trusts, at petrol stations, and at campsites. We shopped in local shops and at roadside kiosks, in local distilleries, smoke houses and candle/gift shops. We were made to feel welcome with cheery waves and warm hospitality wherever we went.
Contrast that with driving home through Strathcarron. Aggression from other drivers, for simply using the roads, was shocking and unwarranted. Highland hospitality? Missing in action.
Please help spread the word by sharing this with your friends/family. Thanks!