…despite winning big at Bafta.
It's awards season – a time for frocks and faux-pas, tuxedos and Twitter gaffes and making a list of 'things to watch'. Hot on the heels of last month's Golden Globes, Sunday night was Bafta and Grammy night, and it won't be long till we are treated to the Oscars.
In case you missed the news, the Best Actor Bafta went to Rami Malek for his portrayal of Freddie Mercury in Bohemian Rhapsody – fittingly that film also won best sound. The Bafta for best film was given to a Netflix movie, Roma, the semi-autobiographical portrayal of 1970s Mexican family life from director Alfonso Cuarón. As a newbie to Netflix (three days and counting) I'm hoping to watch it this week as part of my subscription.
And The Favourite, the period drama starring the wonderful trio of Olivia Coleman, Rachel Weisz and Emma Stone, won seven out of the twelve Baftas for which it was shortlisted, making it the biggest winner of the night; Ms Coleman was named best actress and Ms Weisz best supporting actress, while Emma Stone was overlooked. There must have been a few awkward moments over the vol-au-vents at the after-show party…
Was it just me?
But was it just me, or is The Favourite all a bit 'Emperor's New Clothes?' It's thirty years since I've walked out of the cinema during a film, but I very nearly did it again. The film lurched between boring and making me squirm with discomfort.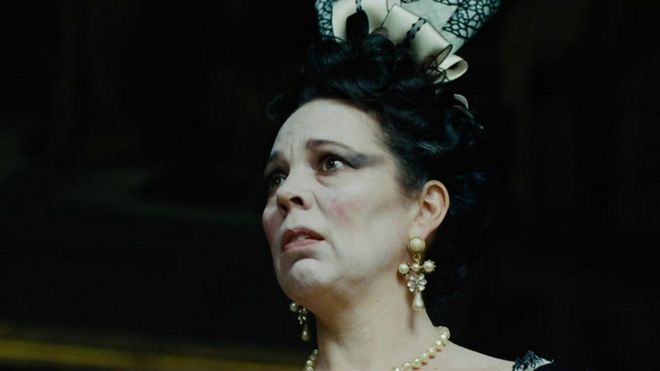 I won't take issue with Bafta or the Golden Globes over Coleman's acting. In this, as in everything she touches, she was astonishing. Broadchurch and The Night Manager were the better for her involvement, and I'm quite delighted that she'll be taking over from Claire Foy in The Crown.
In The Favourite Olivia Coleman portrays another monarch, the 18th century Queen Anne, who was consumed by grief after the loss of her 17 children, and suffered poor physical health too. In the film she is manipulated by those around her but is childish and manipulative herself. She is ridiculed by her friends and courtiers and struggles to understand matters of state. And all the while she gorges on food that makes her sick and plays power games between the women who are vying for her affections. Who will get to rub her sore legs? Who will share her bed?
Which all makes for a pretty tragic tale. This is a woman who deserves our sympathy and compassion, not to be ridiculed. But critics have hailed Coleman's performance as a comic masterpiece, citing duck races and grotesque dancing as evidence of the film's edgy, steampunk style. True, the acting is flawless, and the sets and costumes are sumptuous, but the rest of it left me cold. And don't get me started on the score… Comic masterpiece? I didn't laugh once.
If you've not seen it, don't let me put you off – with all the five star reviews and awards and accolades the film is receiving, it's probably just me not getting the joke. Catch if for yourself and make up your own mind.
See it for yourself, thanks to another Bafta winner…
The film will be one of four current movies touring the Highlands this month in Screen Machine, which is operated by another 2019 Bafta Award winner, Iain MacColl. Iain has been the senior driver, projectionist and front-of-house staff for the Highlands and Islands' mobile cinema since it first took to the road in 1998, with the aim of bringing cinema to remote areas of the north. Iain received the 'For The Love of Film' Bafta, winning it jointly with the founder of a cinema in Whitley Bay.
Over the next fortnight Screen Machine will park up at Kinlochbervie, Durness, Bettyhill and Lairg, plus Tomintoul, Grantown, Newtonmore and Fort Augustus. Bohemian Rhapsody is on the menu, alongside Mary Poppins Returns and Mary Queen of Scots.
If you are lucky enough to live on the route and can get yourself a seat, enjoy the film and don't forget to congratulate Iain on his Bafta. And if you do brave The Favourite, let me know what you think. Surely it's not just me?
This post first appeared in Seven Days, published by SPP and issued with The Inverness Courier, The Northern Scot and four other titles across the north of Scotland, week ended 15th February 2019.
To receive this column direct into your inbox every Saturday morning, just enter your email address into the widget here. There's no cost, no spam, no hassle – and no hard feelings if you change your mind and unsubscribe at any time :)