There's no point pretending – I have come home from holiday in need of a rest. I've never been able to lie on a sun lounger on holiday – certainly not when there are boats to sail, tennis to play and hills and villages to explore by bike. And that's without counting the cocktail-fuelled dancing into the wee small hours…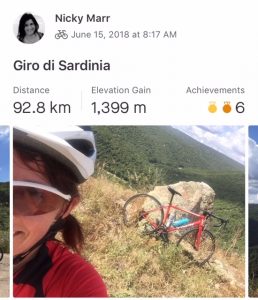 But my activity levels during a sporting fortnight in Sardinia, even with a madly hilly and windy 100K cycle in 28C heat on the last morning, pale into insignificance when compared to my Mum's achievement while we were away.
As we were tucking into the first glass of Prosecco of our holiday the message came through – my Mum and her pal, both Sandras, had reached the famous fingerpost, to complete Land's End to John O'Groats on foot.
They didn't tackle the route all in one go – they're far too sensible for that – but instead followed their own route in manageable chunks over time. When they first walked the West Highland Way together four years ago, followed by the Pennine Way the summer after, the germ of an idea began to form. They got the maps out and started to look at the routes of various long-distance Walking Trails and Ways across Great Britain. Could they be joined up?
It wasn't entirely straightforward, but with a bit of jiggery-pokery and an extra few days here and there to 'join the dots', it looked possible. Their chosen route certainly wouldn't be the quickest or shortest way to walk the length of the country, but it would be bonnier than the main roads and, crucially, meant they could take advantage of the various 'bag-drop' services the established Ways enjoy.
The Sandras covered 1380 miles over 95 walking days, with tens of thousands of metres of ascent and descent (tough on Mum's septuagenarian knees). There were countless days of sunshine punctuated by spells of torrential rain, all fuelled by tea and cooked breakfasts. And from close examination of the photos I'm fairly certain that each day was rounded off by a celebratory beer…
Their route took them through some of the country's most stunning scenery. Highlights were, as Mum says, "All the sunny days!" and low points were mainly weather related too – the mud on the Severn Way made the going underfoot really tough, and getting boots dried out overnight wasn't always easy. But every day had at least one highlight – endless downpours on the South Loch Ness Trail were compensated by
a damp evening spent watching pine martens in Foyers.
I was delighted to host the pair the night before they set off on their final 147-mile leg from Inverness Castle to the famous fingerpost at John O'Groats. Filling them up with breakfast, I topped up their well-worn flasks with coffee, packed some cake, and waved them off.
The John O'Groats Trail is still a work in progress. Although many sections are well sign-posted and new bridges have been built to help walkers ford streams, there are other sections where the paths are still sketchy and good navigational skills are needed.
With the north-east haar living up to its pea-soupy reputation some mornings, walking along the (often pathless) clifftops of north-east Caithness was occasionally a little hairy. But once the signposts are in-situ and the paths better trodden, the Trail will be another asset to the tourism toolkit that we are lucky to have.
As locals we already know how stunning the east coast beaches are. The cliffs of Caithness took The Sandras' breath away, although the haar was so thick on Duncansby Stacks that they had to trust from the map that they were actually there.
Warm congratulations awaited them in The Storehouse at John O'Groats, where the owner gave them signed certificates, invited them to sign his book for 'completers', and gave them coffee to celebrate their achievement.
So what's next? You might think a week on a sun lounger, but no. This pair have already earmarked The Affric Kintail Way and The Kintyre and Cowal Ways for this year, with the North Highland and Hebridean Ways pencilled in for next summer.
I'm still proud of my 100K cycle in the heat but know when I've been trumped. And if I have half my Mum's energy and fitness when I get to her age, I'll be thrilled. Well done The Sandras – I'm in awe!
SUBSCRIBE to receive a weekly email to receive my most recent column on a Saturday morning – just enter your email address in the  widget on my home page. Unsubscribe at any time – no dire consequences, I promise ;)
Feel free to share on social media or by email and to contact me with any feedback.
This post first appeared in Seven Days, published by SPP and issued with The Inverness Courier, The Northern Scot and four other titles across the north of Scotland, week ended 22nd June 2018.