Memories in Vinyl
We finally did it – the turntable and a couple of hundred-weight of vinyl finally made it down from the loft last weekend, and after a false start with the wrong stylus, Easter Sunday saw us sitting on the floor, raking back through memories as the decades peeled away.
Whoever said that the 80s and 90s were the decades of lost music clearly forgot about the Cowboy Junkies, 10,000 Maniacs, Aztec Camera and Orange Juice. Our collection includes heavy representation from George Michael, The Sugar Cubes, and Bananarama. Pretty much everything ELO recorded is there too, plus The Housemartins, Bowie, REM and Hipsway.
Inevitably there's a fair crossover in Mr Marr's and my tastes, but the albums are mostly his; my hundreds of cassettes are still lurking in the loft with the spiders and the singles.
I'll fight him for Talking Heads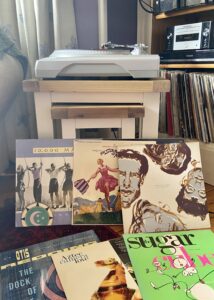 All the disco and the soul and blues albums are mine, along with my mum's original copy of The Sound of Music soundtrack. The Pale Fountains, Kylie, and Fashion are his, as is the radio-shaped single of Nick Hayward's 'Love All Day'. If it comes to it, we'll fight over Talking Heads.
I'd forgotten it existed, and it must be 30 years since I last heard David Byrne's Latino-style Rei Momo album, but I discovered I'm word perfect. It's strange what our brains choose to remember. If only that could be controlled…
One track at a time, Mr Marr and I were transported back to shared flats and those flat mates, to the friends who had introduced us to their record-shop finds, and to the friends whose bands' records we bought. Does anyone else have Jesse Garron and the Desperadoes' entire back catalogue in their collection? Thought not.
But it's so bloody interactive!
But the main thing I'd forgotten is how interactive vinyl is, and how deliberate you have to be in your listening choices. No simply yelling 'Hey Siri, play some music', you need instead to hunker down on the floor, and start flicking through your collection.
There's the physicality of removing the album carefully from its lyric-printed sleeve, and giving it a clean, before placing it on the turntable.
Then it's a case of selecting the speed, de-fluffing the needle, and moving the arm over, gingerly placing the stylus on your chosen track. There's that hiss, a deeply pleasing crackle, and the speakers burst into life.
There's no asking Siri to skip a dodgy track, and you only get about 20 minutes before having to decide what to play next. And yes, if you dance too close to the record player, the needle does still jump.
The power of the mix tape…
I'd forgotten the role that records played in our teenage years too; borrowing albums, taping them for friends onto blank C90s, and the excitement when that boy you fancied made you a mix tape.  And the embarrassment (and expense) of having to buy replacements when your mum propped borrowed albums against the radiator, not realising they would melt.
We thought we were bringing vinyl down from the loft. In fact, we brought down decades of memories, in 12inch form. Scratched and dog-eared, they're perfect.
A Highland Henny
One of our gang of girls (for 'girls', read 'menopausal women') is getting married next month, so of course there was a hen do. Inverness did us proud.
Balaclavas and diesel-impregnated boiler suits provided suitable levels of glamour at Inverness Kart Raceway, where we giggled like kids as we raced around on souped-up lawnmowers. I'm not saying we got competitive, but…
Later, we slipped into massive waterproof suits to board Mischief, Dolphin Spirit's high-speed rib. Skipper Stevie shared his passion for wildlife and local history, and the dolphins came out to play. With calm waters and the sun in sky, we couldn't have hoped for better.
MacGregors Bar wisely gave us a private room in which we could whoop and holler, eat and drink, and – with sequins, scissors, and sticky-tape – design a wedding dress for our beautiful bride. She'll likely go shopping instead.
Why travel abroad for hen dos? And who's getting married again next?
Someone must know…
The trails of Oor Wullie statues and giant squirrels, and now painted Highland Coos, make eye-catching displays, and raise shedloads of cash for local charities. But within mere hours of the colourful coos going on display across the region to generate funds for Highland Hospice, two have been damaged.
This is despicable behaviour. It's mindless, meaningless vandalism, serves no purpose other than to cause hurt and upset, and creates an unnecessary repair bill for the Hospice. That's money that should be going to support patients.
Someone must know who did this. Please speak up.
This column is published by Highland News and Media in six of their newspapers across the north of Scotland. If you can, please support print media and the future of independent  journalism by buying a paper, or subscribing online. 
If you'd like to receive it by email every week, sign up free. Just pop your email address into the widget on my home page here. And feel free to share.