Enough with the Scamming. I'm tired.
Can you just stop it now, please? Stop with the scamming texts, the phishing emails, identity thefts and the phone calls? It's getting boring. It's time-consuming, and one day my guard will slip, I'll fill in my card details, and I'll end up losing money. Maybe even worse than that, I'm losing my faith in humanity.
Already this morning I've fallen foul of three attempted scams; well, two scams, plus a phone call from someone who scammed a loan company and gave them my phone number instead of their own. That doesn't include two Facebook friend requests from people I'm already friends with.
Your parcel is not on the way…
First attempted scam today was a text from The Post Office, telling me my package was delayed due to an unpaid shipping fee. Could I click the link, please, to pay and re-schedule delivery?
'Bloody Brexit', thought my early morning brain as I clicked the link. I've been waiting for a parcel from Spain. Import charges? I've read about these…
Reader, I clicked the link. It took me through to a familiar looking website. There was an outstanding £2.10. Pay that, and my parcel would arrive on Thursday.
From 'Bloody Brexit' to 'Bloody idiot'.
I filled in my address, then it asked for my date of birth in case the parcel contained alcohol or another restricted item. I hesitated. If I filled this all in (obviously with a fake date of birth, I'm not completely foolish) the 'Post Office' would then have the info they needed to take out bank loans, credit cards, finance deals and more in my name. I took a screenshot of the text and posted it on social media.
'Am I overthinking, or is this a scam?' I asked. With one collective voice, my friends shouted 'SCAM'. I stopped giving away crucial personal data. 'Bloody Brexit' turned quickly to 'Bloody idiot'. I got on with my morning.
Get your own Microsoft Account!
I'm freelance. Occasionally, offers of work pop in from unlikely sources and I have learned over the years that it pays (literally) to keep an open mind. If I'd have been cynical about some of the stuff that seemed too good to be true, I'd have missed media work all over the country, including a long, splendid, sunny weekend on a boat in the Norfolk Broads.
Here was an email suggesting an interesting collaboration with a magazine. I clicked the link. I then had to spend the next 45 minutes dealing with Microsoft, trying to reclaim my settings and re-set passwords. Nothing accessed, no data breaches, just a pain in the neck, lost time, and another tiny scratch on the lens of the rose-tinted spectacles that I insist on still wearing.
Exhausting and relentless
It's exhausting, it's relentless and I stand to lose so much more than time. Family and friends have been scammed for real, necessitating long drawn-out negotiations with their banks to recover lost funds, hours spent setting up new cards and accounts, and time to regain financial confidence.
Is there an answer? Or do I simply need to dial up my cynicism? Probably. And change all my passwords. Again.
Venturing North
For the past couple of months, I've been working with Dingwall-based DP Digital Media, making short films to promote Caithness and Sutherland as year-round holiday destinations.
So far, we've visited businesses in Dornoch, witnessed beautiful morning light on the frozen banks of Cassley Falls, and explored Croick Church, the graveyard of which became home to over 80 refugee families, who were heartlessly cleared from their Glencalvie crofts in 1845.
Last Wednesday we travelled to the Kyle of Tongue, then round loch Eribol to Oldshoremore, where I indulged in a session of Yin yoga, enjoyed an emotion-stirring sound bath, then walked along the beach as the wind kicked spindrift from the crest of breaking waves. All in a day's 'work'.
The aim of the films is to encourage more visitors. The impact has been to inspire me to spend more time exploring my doorstep. Why should tourists have all the fun?
Weekend in Kyiv, anyone?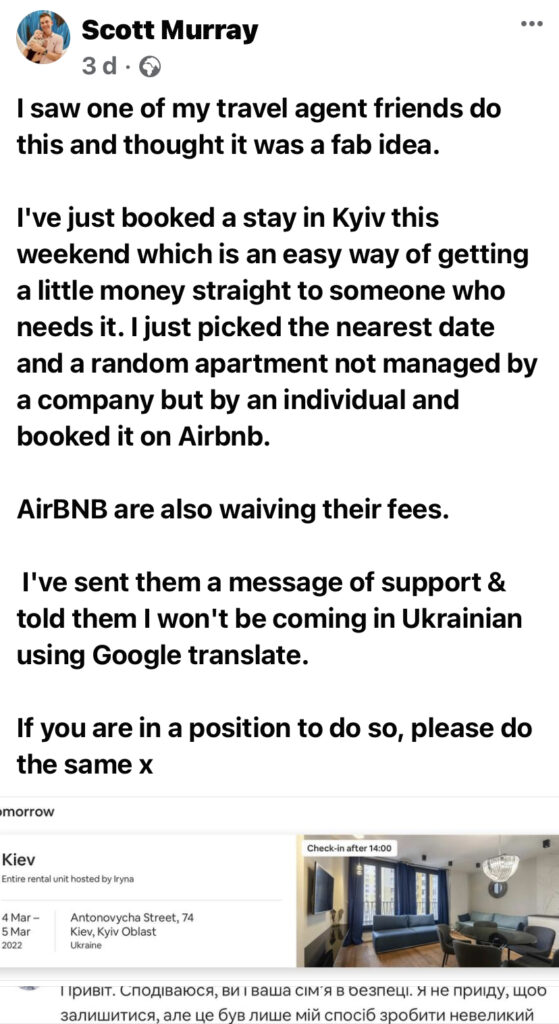 As the Russian offensive intensifies, so does the reaction of ordinary, decent people across the north. In response to almost every news bulletin, about civilians shot dead as they flee, or the paltry offers of UK visas to Ukrainian refugees, comes a story to rebuild our faith in humanity.
Scott Murray, of the multi award-winning Murray Travel, shared a gesture he and fellow travel agents are making; booking accommodation in Kyiv through Air BnB. The money goes directly into the pockets of people on the ground; many recipients are donating it to those more in need.
Smart thinking. Easy. And easy to join in with. I wonder how many of us were virtually in Kyiv last weekend, and how many more will be 'back again' soon…
Thanks for reading. 
Please share this with anyone else who you think might enjoy it, and encourage them to sign up too.
It's free and easy, with no ads or spam, promise! :)