Events are back!
With large-scale in-person functions firmly back into our calendars, the number of events I'm hosting is picking up. Next Thursday, 25th August, you'll find me in posh frock and heels at Inverness's Kingsmills Hotel, hosting the Highland Business Women's Awards.
But between now and then, you might find me on the Highlife Highland website, working my way through the 113 videos Lorna Steele McGinn has recorded since the first lockdown. If Lorna hadn't been nominated for a Highland Business Women's Award, by Jenny from Australia who became hooked on them, I wouldn't have known they existed.
Paying tribute to all the finalists
I'm not a 'turn up and read the script' kind of event host. For me, one of the key elements of hosting is preparation. It feels right that every finalist should get their moment in the spotlight, so I like to pay tribute to each, with a short 'blurb' about who they are and what they do. It's also good publicity for them.
Working my way through entries from the 50 or so finalists for next week's awards made for an inspiring couple of days. I've long believed that the Highlands and Moray punch above our weight in terms of entrepreneurial spirit, innovation, resilience, and teamwork, but diving into these success stories confirmed that belief.
Woman of Inspiration
One of the awards categories differs from the others, in that entry is by nomination only. It's also an entirely open category, not restricted to HBW members. I suspect that non-member Lorna might have been surprised by her nomination for 'Woman of Inspiration' but I hope her surprise is tinged with delight.
I also hope that, win, lose or draw, Lorna turns up on the night to enjoy her moment in the spotlight. Because she certainly inspired Jenny, whose nomination form brims over with enthusiasm for the weekly 'Learn with Lorna' sessions that she tuned into every week from Brisbane.
Jenny's ancestors hail from Cromarty. She stumbled upon the sessions and quickly became part of a worldwide community of regular viewers from as far apart as South Africa and Brazil, New Zealand and 'Auld Reekie'. Hundreds tuned in to watch Lorna's talks about how the Highland Archive Centre works, about the treasures it holds, and the stories those treasures tell.
250, 000 viewers from around the world
Lorna's viewers, who have topped 250,000 between YouTube and Facebook Live, heard tales of Culloden and castles, clearances, crofters, and canals. They heard of witchcraft, mythology, and of how patients in the asylum were treated. Viewers have enjoyed virtual tours of Inverness castle and seen the plans for its conversion.
Some of Lorna's regulars have formed their own community of Highland enthusiasts; most will – I am ashamed to admit – now know more about my homeland than I do. Jenny is planning to visit the Highlands, to walk the streets where her ancestors walked, and to dive into the Highland Archive Centre in person, to carry out her own research. If just a fraction of Lorna's loyal audience follow suit, just think of the economic impact.
I'm just the hired help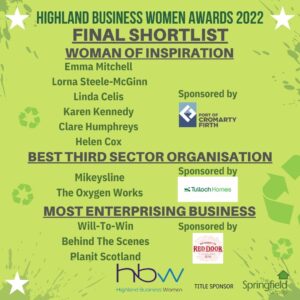 Let me be clear – I am simply the hired help at these business awards – I'm just the host. I have no part in the judging process and have no idea which of the six brilliant, shortlisted women will be named 'Woman of Inspiration' on the night. Nothing I say or do, or write here in these pages, can in any way influence the judging process, which is, as I write, being carried out by an independent panel. And I'm not even saying that if I had been a judge, I would have voted for Lorna to win. Her fellow finalists are equally impressive.
What has struck me, though, is how could I have been ignorant of all this amazing content that was being created for free? And now that I know, how can I find enough time to watch it all?
Ideas, tenacity, and doing the right thing
Behind every successful business is someone who came up with the idea, and who has had the tenacity to make it work. Whether that business is in education or interior design, business coaching, accountancy or wellness, someone has put their confidence in the right place, and had the courage to build something for the benefit of themselves and others. As a Highlife Highland employee, Lorna beautifully built on what she did in her day job before Covid hit; she shared Highland's stories.
I applaud all the finalists at next week's awards, for which, if you're quick, tickets are still available. 'You're all are winners' is a hackneyed phrase, but I'll use it anyway.
**Note**
The 2022 Highland Business Women's Awards will take place on Thursday 25th August at the Kingsmills Hotel, Inverness. Ticket prices are £70 for members and £75 for non-members which includes a three course meal, wine and coffee.  To book your ticket, please contact Lynn Gardner on lynn.gardner@hnmedia.co.uk or 07867 003071.
This column is published by Highland News and Media in newspapers across the north of Scotland. If you can, please support print media and the future of independent  journalism by buying a paper, or subscribing online. 
If you'd like to receive it by email every week, sign up free. Just pop your email address into the widget on my home page here. And feel free to share!