Where's the centre of Scotland?
I was 'one of those kids' when I was wee; always curious, always asking questions. My Mum tells me my hunger for knowledge could be exhausting. And as the mother of two who inherited my 'tell me everything' gene, I can fully sympathise.
Where I could turn to Google to help answer some of the trickier questions from our girls, my parents' only resources were their wits, their memories, and the set of navy-blue-bound Encyclopaedia Britannica that occupied the bottom shelf of the TV unit.
I loved those books. They were my internet. Lazy days were spent lying on my stomach on the floor with juice and a digestive biscuit, flicking through their pages and reading about obscure invertebrates, iron-age brochs, or the tribes of far-away countries whose women wore neck rings to enhance their beauty.
Unanswered questions
I can't possibly remember every question I asked Mum and Dad, but I distinctly remember asking where the exact middle of Scotland was. Short of getting out a map and a ruler, no-one knew. This felt like the sort of thing we should all know, as important a part of our general knowledge as our capital city of our national flag. I've no idea what prompted it; we must have been doing something on centres and circumferences at school. It felt like it should be around Perth. That's in the middle, isn't it?
But my question was finally answered last weekend when Mr Marr and I snuck away for a night in our van.
We met in the middle… literally
Regular readers might know that I live in Inverness, and as boss of The Edinburgh Playhouse, Mr Marr is usually in Edinburgh. We often meet 'in the middle' for the weekend. He'll take a train north and I'll intercept him in our van at a station on the route. It's all very romantic, and a bit 'Brief Encounter', except that we're married to each other.
Last weekend's pick-up station was Kingussie, and we were booked to stay in Glentruim.
We parked up, then headed out for a walk – a route that would take us through the forest and down to the Falls of Truim, before winding back via old Military Roads.
Woah! The Centre of Scotland!
And suddenly, with no celebration or signposting, no fuss, or fanfare, was a huge rock. On it, a plaque saying it marked the centre point of Scotland, defined as the most distant point between the North Sea and the Atlantic Ocean.
Frustratingly, there was no mention as to whether this is the centre point on a north-south axis too, so this overgrown 5-year-old got a map and ruler out. Including Shetland, it's bang-on.
There's a huge dispute online about the centre of Scotland; should it include the islands or not? But as they are undeniably part of Scotland, so it's a 'yes' from me.
The centre of Scotland is in Badenoch, on the eastern fringes in the Cairngorms National Park. Who is going to tell Edinburgh and Glasgow that they're not the 'central belt' after all?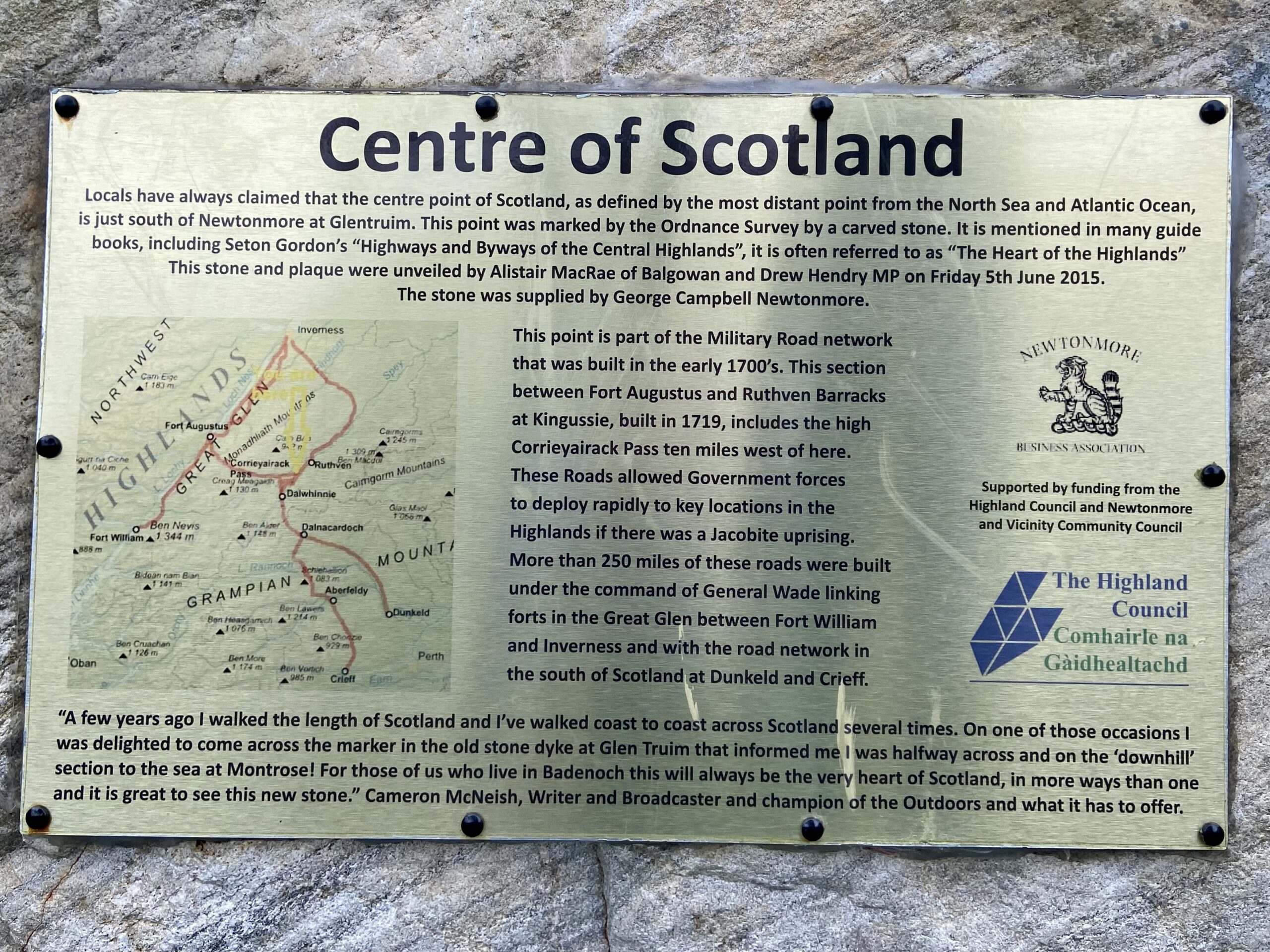 An embarrassing shambles
It had been Sunday's plan to spend the day at the Highland Folk Museum in Newtonmore.
But just as we entered the site, the alerts started on Mr Marr's phone. His 4pm train south from Kingussie had been cancelled, as had all the later ones that day. There was no option but to cut our trip short to get him to the station pronto, for the only remaining train.
Daughter #2 was due to be heading north from Glasgow by train that evening – the majority of her trains home were cancelled too. If she hadn't headed to the station early, she'd have been stranded overnight.
Scotland's rail network is an embarrassing shambles. The Scottish Government claim to be trying to fix it, but it needs proper investment, in both infrastructure and in people. No wonder staff are striking. Under those working conditions, I would too.
Nothing ages us like a museum
Even our shortened trip to the Highland Folk Museum was worth it.
We'd not been there for years, but there's so much to explore; different houses and buildings showcasing the last 300+ years of Highland life. Some of the buildings have been saved from demolition and rebuilt on the 80-acre site, including Knockbain Schoolhouse which was still in use in Kirkhill till the 1980s, and tiny Glenlivet Post Office.
But there's nothing like a museum visit to make you feel old. That mincer? That food packaging? Those classroom desks? I remember them all.
We'll be back!
This column is published by Highland News and Media in six of their newspapers across the north of Scotland. If you can, please support print media and the future of independent  journalism by buying a paper, or subscribing online. 
If you'd like to receive it by email every week, sign up free. Just pop your email address into the widget on my home page here. And feel free to share.