Tattoo? Don't mind if I do
When I was a teenager in the 80s, it was only bad boys and sailors who had tattoos. Other than one pal with a Madness logo on his ankle, not a single classmate or fellow student was inked.
It just wasn't a thing. Tattoo parlours barely existed. There was one down in Aberdeen harbour, but to this neat-haired, clean-living teenager, there was an aura of danger surrounding it. There was another near my student flat in Edinburgh. I hurried past, wide-eyed at the images in the window of blood-soaked daggers or furious-looking skulls. There was always a funny smell coming from there too. It was years before I worked that out.
So, would I ever get a tattoo? Not on your pristine nelly. It wasn't that I didn't fancy the association with bad boys and sailors, more that I knew how fickle I was; how likely I was to change my mind. Although I still love George Michael, the thought of now living with a Wham lyric lacing up my arm, leaves me cold. (Mind you, it's true. Guilty feet have got no rhythm…)
All change
Fast forward a generation and it's a different story. Barely a body is ink-free, and the bad-boy image is gone. Tattoo parlours are as ubiquitous as nail salons. They are as sanitary as dental surgeries, as bright and airy as the best coffee shops, and are staffed by serious, talented artists. Barely a sleeveless leather jacket to be seen.
New research suggests the largest growing demographic of their clients is me. Women in their 50s are using their bodies as a canvas for self-expression and choosing decorations that will be with them – laser removal aside – for life. And it is wonderful. It's liberating. It's big, big business. And I have joined their ranks.
Inked, and I love it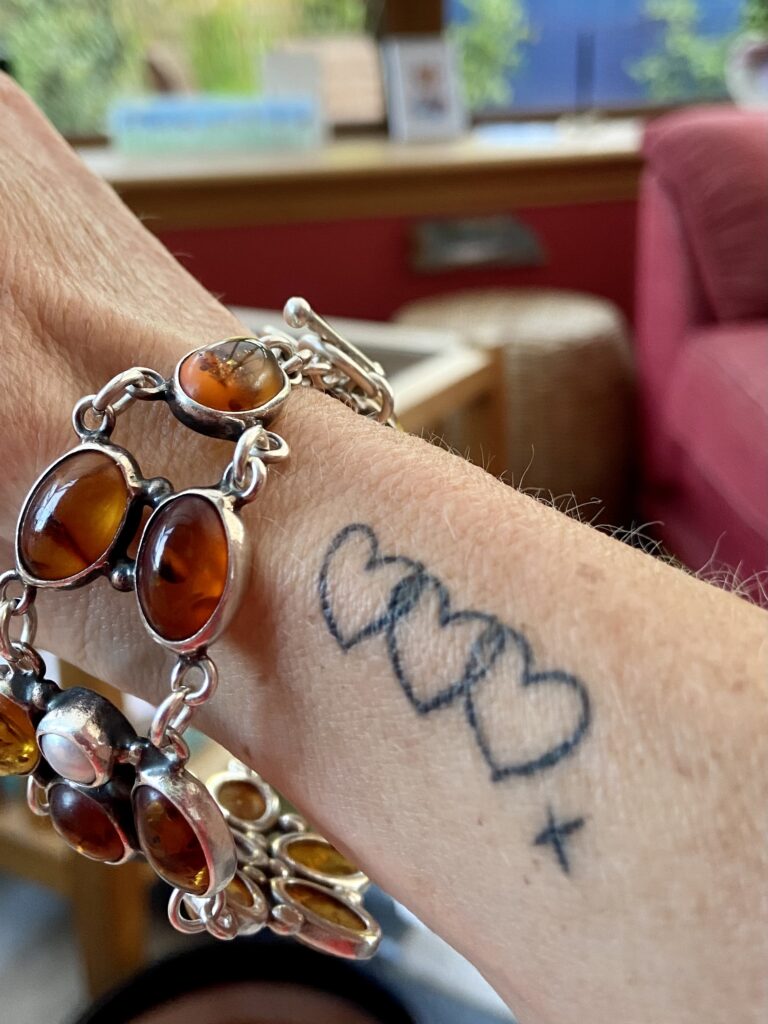 In fact, I was 'drawn on' a couple of years ago, just days before lockdown began. I'd been mulling it over for ages, but I'd worried. Not about changing my mind, because the design I'd chosen was something incredibly meaningful to me, but about how it might be perceived. What would my friends think? My clients? My mum? I kept pushing it to the back of my mind, but like all the best ideas, it kept resurfacing.
Two years after I'd decided on my design, stalked my tattoo artist on Instagram, and stopped caring what anyone else would think, I booked my appointment. And – much to the poor woman's horror – I wept my way through the process. Not because it was painful (it wasn't) but because of what it meant to finally get it done.
And I love it. ♥♥♥x
I love my tattoo. It's personal, it's beautiful, and it's me. And not a soul has judged me for it, or if they have, they've been kind enough to keep it to themselves.
They say that once you get your first tattoo, the craving for more will strike. So far, not yet. But never say never. After all, I might still be tempted by those Wham lyrics…
The real cost of a mouse infestation £££
With the hike in fuel prices our family efforts have been doubled to leave the car at home, and to walk or cycle. In this fine weather it's little hardship. In fact, it's good for the soul as well as for body, pocket, and the planet.
But our efforts hit a setback when we discovered that mice have moved in. I'm not one for poisons, so peanut butter was applied to the humane traps. We didn't have to wait long. We only have two traps. Evidence suggests the mice are breeding fast.
Perceived wisdom is that mice need to be taken at least two miles from home, or they'll return. We're taking no chances – our preferred release spot is Ord Hill.
Of course, I can cycle that far. But the thought of pedalling with trapped rodents in my backpack is a thought too far.  Anyone got a spare cat?
Sewing Bee? Life-changing TV
I love a bit of feel-good telly. I'm thinking Bake Off, Repair Shop, and Pottery Throwdown. Ordinary people doing extraordinary things with sugar or clay, and having prized possessions restored to life.
But last week's episode of Sewing Bee had me in tears. It was Gill's turn to leave the show, and her heartfelt farewell is already my TV moment of the year. Until joining the show she'd never appeared in public without her prosthetic hand; but the series had freed her from feeling she had to hide.
Sometimes inspiration comes from the most unexpected quarters. Catch it on iPlayer if you can. Here's a wee snippet… get your (impeccably hemmed) hanky ready :)
This column is published by Highland News and Media in newspapers across the north of Scotland. If you can, please support print media and the future of independent  journalism by buying a paper, or subscribing online. 
If you'd like to receive it by email every week, sign up free. Just pop your email address into the widget on my home page here. And feel free to share.