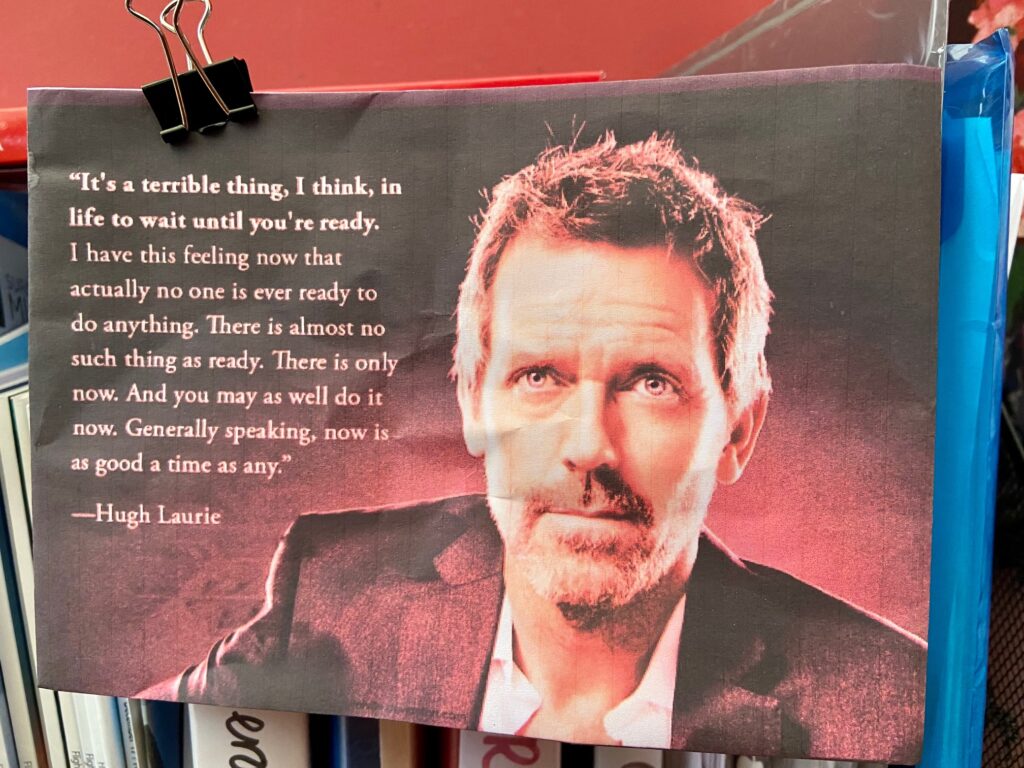 Resolutions? Intentions? Now is as good a time as any.
There is a quote from actor Hugh Laurie on a scrappy bit of paper beside my desk. It catches my eye every now and again and reminds me to just get on with the stuff I've been procrastinating over. Like hoovering the hall or finalising my accounts.
Hugh's wisdom goes like this: "It's a terrible thing, in life to wait until you're ready. There is almost no such thing as ready. There is only now. And you may as well do it now. Generally speaking, now is as good a time as any."
It's not as quick and pithy a quote as Nike's 'Just do it', but in essence, it's the same. And it's how I like to embrace life between Boxing Day and about the middle of January, when the old habits of real life begin to take over again.
I love this time of year
Despite long, dark nights and dubiously-weathered days, I love this time of year. I love these disorienting, cheese-fuelled days, when there is still Christmas cake to keep me company at my desk. I love fire, candles, and fairy lights, and eating proper puddings, thick soups, and rib-sticking stews. Now seems 'as good a time as any' for a nap on the settee.
And when I wake up from another unscheduled nap, I love the burst of energy I suddenly – fleetingly – feel, to tidy that kitchen cupboard, to clear out my wardrobe, or to leaf through my scores of cookbooks to find new recipes.
Now is the time to discover new walks. As I write, we're just back from exploring the Coffin Road between The Clansman Hotel and Abriachan on the north shore of Loch Ness. We've driven past it 100 times. Today we stopped. Today seemed as good a time as any. Thanks, Hugh – the views were great.
A handful of intentions
I am pleased with the handful of hand-written intentions I have set for myself for January. These include getting to bed when the clock's still showing single figures, relying less on meat for home-cooked meals, moving more, and cutting my Netflix habit. A friend who grew up in Europe recently shared how surprised she was that so many Scots consider 'watching telly' to be their main hobby. I'm ready to unwrap those packs of air-dry clay I bought a few months ago. To dust down my neglected ukulele. And to return to choir.
I'm not naive enough to imagine that all or any of my intentions will last, but if even one or two stick, or stick for a while, and they make me feel better about myself in the short term, that's a win.
Hugh's advice to do things that we want to do, whether we feel ready or not, seems manageable. I'm uneasy about resolutions; they imply that life wasn't good enough before. But following Hugh's mantra seems manageable. And positive. And just a little bit more like what life should be like.
And that feeling of finally delivering my books to my accountant, only 18 months late? Solid gold.
The value of free speech
I know you're here for local news and views, but have you clocked what's happening in Hong Kong? Another pro-democracy news agency closed this week, after new laws put in place by China are stifling free speech.
The shut-down of Citizen News comes hot on the heels of last week's closure of another democratic agency, whose offices were raided by police, and staff arrested on charges of "conspiracy to publish seditious publications", after they dared to criticise the Chinese authorities.
We might not think this has any relevance to us here in the north of Scotland, where we have all the free speech we need. In fact, the focus here seems to be more on how we control the trolls.
But are our freedoms quietly being eroded here, too? I'm keeping an eye on Westminster and those new, tighter laws curtailing our rights to protest. Slippery slope? I hope not.
No Jeans January
You wouldn't believe it if you saw me in the street, but over the years I have collected some lovely clothes. My mantra is to 'buy well, buy sparingly', and some of the contents of my wardrobe are older than my children.
And yet, I rarely wear anything but jeans. So, I have embraced #NoJeansJanuary* to try and mix it up a bit. So far, so good. An old Monsoon dress from 1994 is amazingly comfy, and my Belladrum tartan kilt has enjoyed another outing. But do pyjamas all day count? Asking for a friend…
(* #NoJeansJanuary. SO much more fun than Dry January too!)
I know we're all pretty much back to work now, but very best wishes for a wonderful 2022 and thanks for reading and subscribing.
If you'd like to share this with a friend, just ask them to add their email to the wee widget on the left hand side of my home page, or get them to email me nicky@nickymarr.co.uk and I'll do the rest.
Thanks!