A memory from about 15 years ago resurfaced recently. I was in the Cairngorms with my mum – I can't remember exactly where – but we'd walked in from Glen Feshie. We had day sacks and sandwiches and had set off from Inverness before 7am. The day was ours. Nothing to do but put one foot in front of the other and walk, and talk, and think, and drink in the scenery.
It was a perfect day to be in the hills; dry and with the sun occasionally sneaking out from behind the clouds to brighten our route. I'd been struggling a bit with depression – the details aren't important – but thanks to a wonderfully proactive GP I was beginning to get back on an even keel. The day in the hills would be a tonic.
And it was. As we walked and talked and fell into easy silence, and as we checked the map and drank from our flask, my mind became calmer and my thoughts more ordered. And at one point, traversing a ridge between peaks, I became acutely aware of my place in the world; my sheer insignificance and the insignificance of my struggles. The mountains surrounding us had been there for millennia and will be there until the end of time. Their majesty and permanence gave me the perspective I'd been struggling to find.
I had to reach for my tissues, but after tears I felt lighter. Mine wasn't an overnight recovery, but there is no doubt that being in the hills that day helped.
Just Another Mountain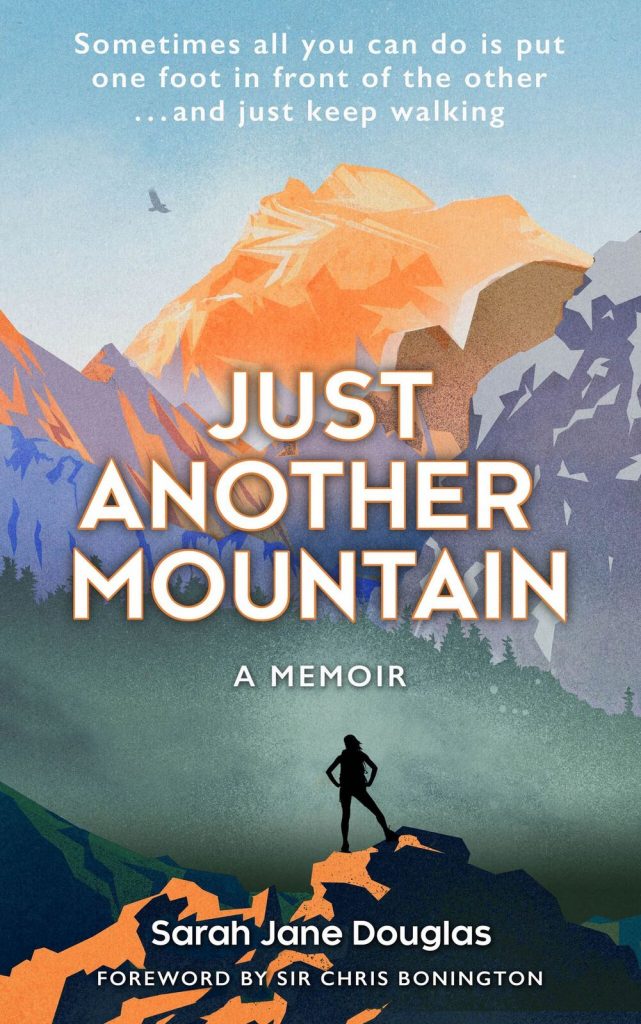 I had all but forgotten that day until I started reading a brand new book by Ardersier artist and writer Sarah Jane Douglas. 'Just Another Mountain' is her first book, and it is a raw and powerful memoir, one that will have you cancelling weekend plans and reaching instead for your OS maps, your walking boots and your waterproofs.
Sarah has been dealt a tough hand in life. She was devastated when, at the age of 24 in 1997, she lost her mum to cancer and, consumed with grief, fell off the rails. In 2008, partly to escape a tricky marriage, and mainly in fulfilment of a promise made to her mum that she wouldn't give up, she donned a pair of her mum's old walking boots and started putting one foot in front of the other.
Her first, fairly reckless climb on a snowy Meall a' Bhuachaille in the Cairngorms (really Sarah? Heading out on your own without a clue about winter walking conditions? Shame on you!) were her first steps on a long, bumpy journey to a place of peace and acceptance. Her journey has taken her up all of Scotland's Munros (she's proudly Munroist number 5764) and to the summit of Kilimanjaro and the high Himalayas too.
The reaction is almost visceral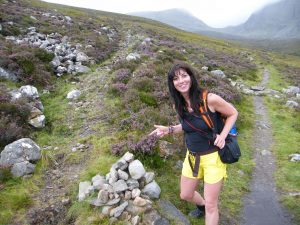 With a narrative of hill walks woven among the memories they triggered, this is a punchy and moving read. Alongside Sarah we feel every setback, both emotional and physical. The reaction is almost visceral. But this is no misery memoir, the payoff is that we champion her successes and triumphs too. As Sarah's story unfolds, we are with her every step through grief and isolation, and on her search for answers, friendship and love.
Just as Sarah was finding happiness and a place for her grief, there was another cruel blow when in 2017 she herself was diagnosed with cancer. Again, the hills became her solace. Her story is a reminder of humankind's resilience in the face of any mountain, real or metaphorical. The book is also a love letter to the world's precious and untamed wild places.
Smashing Cancer in the Face
I read the book in a couple of sittings, then got in touch with Sarah. We met over cocktails – her idea, and much more fun than coffee. We talked non-stop, laughed like drains and promised to do it again soon. Sarah is sharp and funny. Her blog, 'Smashing Cancer in the Face', is a great place to start getting to know her – until you can get to a bookshop to buy her book.
Mountains (and cruel diagnoses) have pushed Sarah to the peaks of her endurance. Their summits have filled her with joy and their majesty and wilderness give her space to get life's trials into perspective.
'Just Another Mountain' is a reminder that they can do the same for all of us. Although my troubles were few, they did it for me 15 years ago too. I have my maps and walk books looked out and as soon as I have stopped limping (remind me never to water-ski again!) I'll be back out there, gaining perspective and revelling in the views.
Like this? To receive it by email every week, enter your details here. No cost, no spam, no ads, no hassle… I promise.
Feel free to share it – maybe others will like it too…
Want to give me your feedback? For that or anything else, contact me here.