---
Next month's nuptials of Harry and Meghan have got us talking. In as much as these things will impact on us here in the north of Scotland, I have decided that their union is a Good Thing. Just a generation ago, when Charles was marrying Harry's mother, it was vital that the bride be 'of good stock'. And to avoid any potential heir to the throne having been fathered by another, Diana had to be a virgin when they married.
The jury is still out on how well that guarantee of paternity worked out, but with Harry having his granny's blessing to marry a Canadian divorcee of mixed race, at last that's some evidence that the monarchy is creeping into the 21st century.
Barring disaster, Harry won't sit on the throne, so the rules can be more relaxed for him than for his elder brother. But whatever your views are on the monarchy, the acceptance of Meghan Markle is a breath of fresh air.
As details of the reception were drip-fed to the media I took part in a radio debate about weddings, and the role of the wider family in their planning. I was asked to what extent any couple should take the wishes of their parents into account. Does it depend on who is picking up the tab for the reception? Or is it right that a couple should entirely please themselves; after all, it is 'their day'?
It's 24 years since Mr Marr and I tied the knot and we were together for five or six years before we said, 'I do'. We organised every aspect of our wedding ourselves, from the non-religious service to the out-of-the-way reception venue, and from the readings to the music, the speeches and the flowers. Every aspect of our day was perfect – exactly as we wanted it.
But looking back – and only with the benefit of time having passed – there is one thing I wish we'd done differently. Our wedding was relatively small, so we decided against inviting our parents' friends and our childhood neighbours, and instead invited the people we partied with – our university friends and work colleagues. Now, having brought up our own children, and knowing how much we relied on our own friends and neighbours during that process, I wish we'd found space for their equivalents at our own celebrations.
We've lost touch with many of the people who were there on the day. As we've moved cities, and some relationships have broken up, we've gone our separate ways. Looking at our wedding photos, as well as seeing those transient faces, I wish I could see the faces of neighbours who had dried my tears when I skinned my knees, the friends' mums who had tucked me into sleeping bags for sleepovers, or the dads who had routinely picked us up from swimming. And of course, Mr Marr's equivalent neighbours should have been there for him – and his parents – too.
But if that's the only change I'd make, we're not doing too badly. At least Harry and Megan won't be quite so constrained with their guest list; St's George's Chapel in Windsor holds quite a few. But even in fairy-tale royal weddings, there's always to be someone missed out. My invitation hasn't arrived yet…has yours?
An expensive mistake…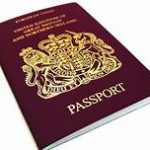 One of the side-effects of living with the same person for (gulp) 30 years, is that each will assume different roles. In our relationship I'm in charge of cooking. It makes sense; I'm significantly better at it than Mr Marr is, and I prefer to eat well. I'm sure the chores even themselves out – he ploughs through the ironing while watching late night TV.
And Mr Marr is better at checking stuff, particularly paperwork before we travel. In fact, he has been Family Passport Monitor for so long that I rarely give travel documents a thought.
Except that with us catching separate flights home from Amsterdam recently, me to Inverness and him to Edinburgh, it made sense for us each to carry our own.
Arriving at Schiphol, I realised my mistake. A call to our hotel – 40 minutes' drive away – confirmed my passport was still in the bedside drawer. The hotel put it in a taxi and we waited. It was an expensive, nerve-wracking solution, but it worked. Bless him, Mr Marr barely raised an eyebrow.
I caught my flight, and he his. We're not quite laughing about it yet, but I've chalked it down to experience. Surely, I won't ever make the same mistake again? Wrong. In fact, that was the second time I'd turned up at Schiphol without my passport, I had another equally expensive taxi journey three years ago. History really does repeat itself.
SUBSCRIBE to receive a weekly email with a link to my most recent column – just enter your email address in the  widget on my home page. Unsubscribe at any time – no dire consequences, I promise ;)
Feel free to share on social media or by emails and to contact me with any comments/feedback.
This column first appeared in Seven Days, published by SPP and issued with The Inverness Courier, The Northern Scot and other titles, week ended 6th April 2018.