The thing about the north of Scotland is that it gets under your skin. And it seems to suck people in, regardless of background or age.
From the tranquillity of the islands in the heart of Inverness, to the majesty of the Cairngorms, there is beauty at every turn. Where better to walk on a summer's evening – or in the middle of a raging storm in winter – than Nairn beach? Unless it's Reiss beach, or Embo beach, or Oldshoremore, Lossiemouth or Achmelvich…  You see? We're spoilt for choice.
The dolphins in the Moray Firth seem to be there purely for our pleasure, and the forests of Ross-shire, the wild mountains of Assynt, and the lochs around the turn of every path are all just waiting to be explored.
Of course we could argue that our weather isn't always the best, but as I type the temperature is in the 20s, and that's plenty warm enough for me. The windows beside my desk are open to the garden and I can hear the neighbours' kids playing. They are loud, but they still can't drown out the hum of the bees, which delight every summer in the overgrown St John's Wort that I never remember to cut back in autumn.
It is not always idyllic, but there is always beauty.  Even on the greyest of days, when the wind, rain and hail collaborate to keep me inside, there is still more sky here than I could ever tire of.
It's almost exactly 20 years since Mr Marr and I arrived in the Highlands, with a new-ish baby in tow, for what we imagined would be a three year adventure. Mr Marr had got the job as Chief Executive at Eden Court Theatre in Inverness. It was a fixed term contract and we fully expected to be back in the central belt before our baby – now about to head off for her junior honours year at The University of Utrecht in the Netherlands – started school.
Of course we didn't leave. This place, and its people – neighbours and colleagues who have become friends, friends who have become family – got under our skin.
Our daughters are Highlanders to their core, and although they love the student life of the big cities, they love the quality of life, the relative freedom, and the opportunities that a Highland childhood and education offered.
The reason for this reflection, this pause to appreciate what we have, is because after 20 years, Mr Marr has handed in his notice at Eden Court. From October he will be Theatre Director at The Playhouse in Edinburgh. But while he'll be working in the capital, we're keeping our base here too. It's that 'under the skin' thing.
This place – our home, our city, our region – is too hard to leave. I have my business here, and friends and clients that I am too fond of to leave. Much of my work – writing and radio – can be done from wherever I can find a wifi-connection or a studio, giving me the flexibility to be here or in Edinburgh and work wherever I am, subject to the Scotrail timetable.
Kids leaving home is one thing – that's what we bring them up to do, and it's undeniably liberating once they are gone. But a husband leaving home? This will be interesting. Especially as we're not splitting up. Fear not, I'll keep you posted…
It takes 10 minutes, and could save your life.
There is no escaping it – last Thursday I was nervous. Doctors and medical appointments usually hold no fear for me, but this was different; my first breast screening appointment.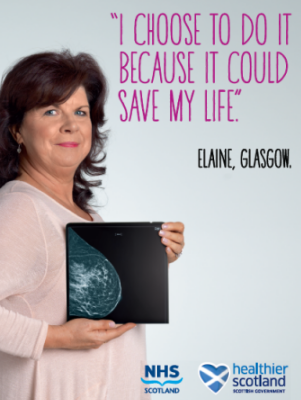 Let's not beat around the bush – in that department my cup hardly 'overfloweth'. Friends (these ones I am strangely so keen not to leave) have been teasing me for months, suggesting that the only way my breast tissue could successfully be screened would be for me to slide my whole upper body between the X-ray plates.
There is something unbelievably reassuring about being called 'Pet' by a receptionist, especially one with a soft Irish accent and friendly, twinkly eyes. As I confirmed my details I already felt reassured. I was directed to the waiting room, and just as Elaine C Smith had said would happen in the video I had watched online that morning, I was asked to enter a changing room, take off my bra, and put my top back on. Years of practice meant my bra was off and out of my sleeve in seconds, without a single shirt button being undone. Don't ask.
And then through to the screening room. Again the staff were lovely. With a reassuringly firm touch (and lovely warm hands) I was manoeuvred into place, the images were taken, and the process repeated until the job was complete. I had been told (by Elaine C Smith, no less) to expect discomfort, but there was none. Then I could dress again, and head for home. I was out the door in less than ten minutes, and my results will be posted in a couple of weeks.
The NHS in Scotland comes in for a lot of criticism, but their screening programmes – cervical, breast and bowel for women, bowel and aneurism for men – are a tremendous way of checking the health of the nation. Participating is free, painless and could save your life. What have you got to lose?
SUBSCRIBE to receive a weekly email with a link to my most recent column – just enter your email address in the wee widget on the left hand side of my home page.
This column first appeared in six SPP Group newspapers week ended 21st July 2017.