Sometimes it takes an outsider
Have you met Jay Wilson? Maybe you'll have chatted with him on one of the Inverness Ramblers walks or bumped into him on a coastal path fringing the North Sea. This could be on any stretch between Inverness and John O'Groats (and he's been known to venture into Moray too) but he's often found around Berriedale, where he rents a cottage overlooking the sea.
Among other things, Jay is a walker and long-distance paths are his thing. He's walked trails all over his native United States, through the Alps, and it's how he's explored the UK too. In fact, it's how he ended up in the Highlands.  The West Highland Way then The Great Glen Way brought him to Inverness… and then? Nothing. There were still over 100 miles to cross to reach the Pentland Firth, but no path.
So, Jay got to work. The John O'Groats Trail isn't as popular – yet – as its long-distance cousins elsewhere, but arguably that's its charm. Buy yourself a guidebook and get walking. Some sections of the 147 miles between Inverness Castle, and a handsome wrought iron archway near the famous John O'Groats fingerpost, are still a work in progress. But without Jay it would all still be a pipedream.
More than just OS maps and fingerposts…
Creating a long-distance path isn't easy. It requires more than just a handful of OS maps, a dozen fingerpost signs, and a Facebook page. It involves working out who owns the land that each section of footpath crosses and building strong relationships with landowners, so walkers feel welcome.
It also requires funding, and recruiting an army of volunteers with the skills and enthusiasm to build stiles and bridges, maintain fences and way markers, and – crucially in summer – to 'bracken bash' lesser-trodden paths.
Jay's tenacity, diplomacy, and hard physical graft have paid off. It's now possible to walk from Lands End to John O'Groats and barely step boot on the A9. That's a win for all of us.
Inverness deserves a proper waterfront
But Jay's not finished. His focus has turned to Inverness, and the almost criminal lack of opportunity the city has to enjoy its waterfront. What on earth is happening, he wonders, with the vast area of waterside wasteland that sweeps between The Caledonian Stadium and Inverness Retail Park?
This former landfill site, it joins with what used to be the old road to Aberdeen. Currently a wilderness of grass and gorse, it's almost completely inaccessible to the public. Bizarrely, there appear to be plans to create more landfill. Why there? Why not regenerate it into a waterfront park the city can be proud of?
Wilson has teamed up with Beauly archaeologist Roland Spencer-Jones and Visit Inverness Loch Ness Chair Jo de Sylva, to investigate transforming this site into a major asset for the Highland Capital. Were the Kelpies not built on reclaimed land? Dundee have done it with the V&A and are 'winning' now again with their Eden Project.
Come on Inverness – catch up! Sometimes it takes an outsider to get things done. We're lucky Jay decided to stick around.
It's all in the eyes…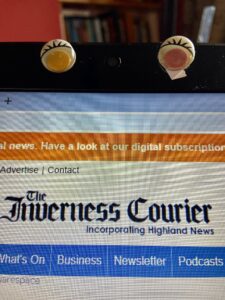 For years I have delivered a course on Presentation Skills, training individuals and teams of work colleagues to feel more comfortable while getting across what they want to say.
I always invite delegates to share their own hints and tips. Peer learning is not only good for delegates, but also a good way for me to learn while I teach.
With a lot of communication still online, we cover how to create connections through a screen. Eye contact is important but can go wrong online. While we're busy looking into the eyes of the person we're talking to, depending on where our webcam is, we might be looking off to the side. Decidedly shifty. Not ideal.
Thanks to the delegate from last Tuesday's course who came up with a genius solution to counter that. I now have a self-adhesive Googly-eye stuck either side of my webcam. Job done.
Covid positive? Stay at home.
I can't wait for every single Covid restriction to be lifted. To be able to go out without a mask, or without first swirling a stick up my nostrils and setting a 15-minute timer.
But I am finding it hard to believe that in a couple of days' time, people in England will be able to test positive for Covid, yet still go out and spread it around without any regard for the safety of others.
We're not all invincible. Covid or no Covid, it's reckless to socialise if you've got an infectious disease. Stay at home.
Thanks for reading. 
Please share this with someone else who you think might enjoy it, and encourage them to sign up.
It's free and easy, with no ads of spam, I promise :)