So where can I get to within an hour and 20 minutes of my house in Inverness? If I walk I can get as far as North Kessock. The views of the Beauly and Moray Firths as I head over the Kessock Bridge are Insta-worthy. When I get there there's the reward of ice-cream or bag of chips, or a glimpse of the dolphins if the tide is right.
If I cycle I can get much further in 80 minutes. It's a heart-poundingly, leg-achingly steep climb up Blackford Hill to Abriachan, but the views are worth the effort, and I might just see red squirrels. The community owned forest is a gorgeous place to explore and brings back memories of when the girls were little enough to delight in the treehouse and the damselflies.
By car an hour and 20 will get me to Ullapool, to walk along the front watching the ferry load or discharge its island cargo. There are galleries and delis, and the coffee at The Frigate is second to none. Depending on traffic I might make it as far as Craigellachie for lunch in The Copper Dog and a meander along the Spey. Or to Brora or Golspie, to enjoy the pristine beaches of the east coast.
But in spite of the old saying, 'East, West, Hame's Best' sometimes it's good to get a little further afield. And last week I did just that. An hour and 20 minutes after leaving the tarmac at Inverness airport we were touching down at the airport of Norway's beautiful, historic, second city, Bergen.
Surrounded on three sides by mountains and on the fourth by a deep harbour that leads to the fjords, you'd expect Bergen to be beautiful. And it is. The harbour has, since the middle ages, been the city's heart. Its colourful medieval wooden buildings used to be warehouses for the processing and worldwide dispatch of dried cod – the country's staple trade commodity. Now housing cafes and restaurants, galleries and workshops it is a magnet for tourists, and thanks to its status as a UNESCO World Heritage Site, the photogenic facades of the buildings will be preserved for generations.
The harbour is still one of the busiest in Europe, welcoming cruise ships from all over the world and providing mooring for pleasure boats. It's also the place to catch a boat for a day trip through the fjords, or to an island restaurant for dinner. Ferries carry commuters between towns and villages as routinely as we might catch a bus or train.
There's no doubt that Bergen makes the most of its natural assets – not just its harbour, islands and fjords, but its mountains too. Just meters from the harbour is the funicular railway which, for almost 100 years, has been whisking tourists to the top of Mount Fløyen. The summit boasts restaurants and viewing platforms, so guests can enjoy the amazing panoramas. But there's much, much more. There are adventure parks for children, plus bike hire and cycling and walking trails. Free kayaks are available all summer, and there are wild mountain goats who munch the scrub and pose for photos.
I was a guest of Bergen Tourist Board and Loganair – the airline is keen to promote its flights and the Norwegians are keen to welcome Scots. Yes, the cost of living in Norway is high (don't forget your duty free!) but there are some brilliant deals around. Our party included half a dozen local travel agents who are pulling together great value packages.
And of course, the flights operate both ways. In coming weeks Loganair are inviting Norwegian travel agents to the Highlands so they can sell our delights to the Scandinavians – watch out for tall, well-dressed Nordics with impeccable English…
But I worry about how we'll stack up. Bergen and Inverness have similar summer climates and our winters are much milder. But where's our café culture? Our outdoor markets? Where are the viewpoints around our lochs and firths, and the cafes (with toilet facilities) to encourage people to stop and absorb (and post on Instagram) the majesty of what they see? Where are the funiculars and cable cars to give easy access to the mountains? More viewpoint car parks, with benches, information boards and regularly emptied rubbish bins would be a start…
We all know the Highlands and Moray are among the most beautiful regions of the world – in fact Norway might be the closest I've seen to rival what we have here. But we need to make it as easy as Bergen makes it, to get close to our natural assets. Of course, there's a balance to be struck between tourist attractions and natural wilderness, but can't we get a little more Scandi?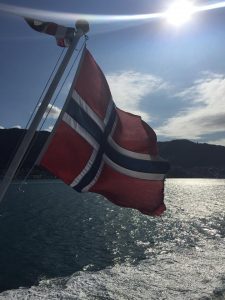 SUBSCRIBE to receive a weekly email to receive my most recent column on a Saturday morning – just enter your email address in the  widget on my home page. Unsubscribe at any time – no dire consequences, I promise ;)
Feel free to share on social media or by email and to contact me with any feedback.
This post first appeared in Seven Days, published by SPP and issued with The Inverness Courier, The Northern Scot and four other titles across the north of Scotland, week ended 10th August 2018.