I'm just back from a swim with my sister. In all honesty, even though I can hardly yet feel my legs from just below the knee, this is the most alive I have felt in months. But while we might class today's early morning adventure as swimming, we barely swam a stroke.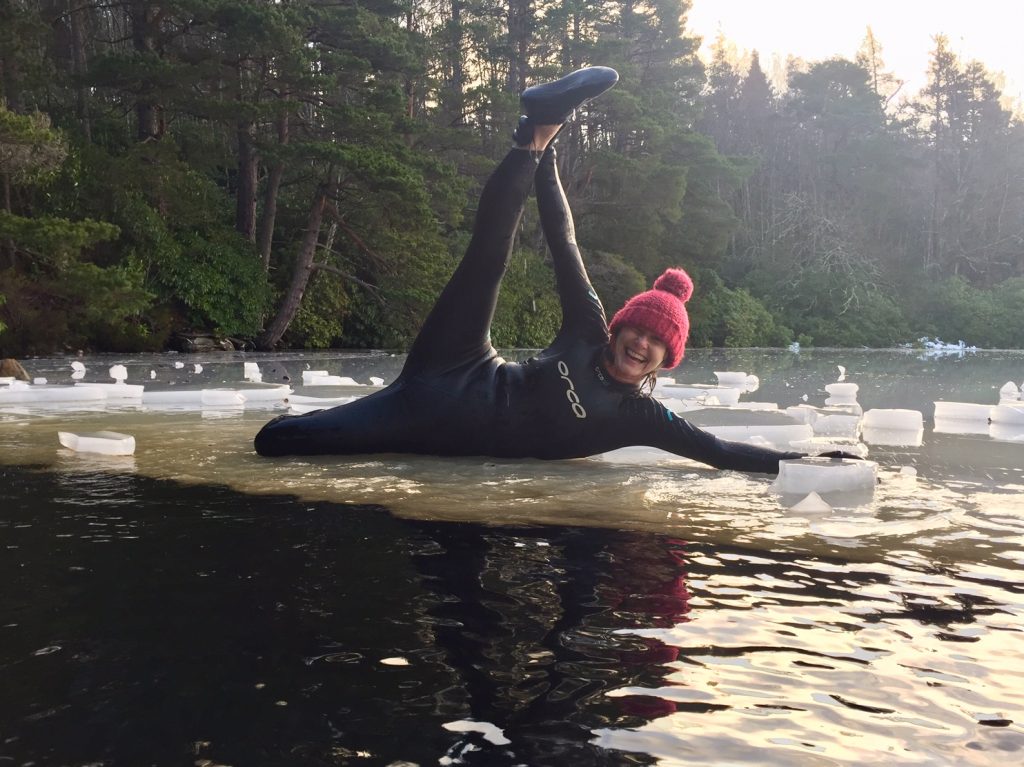 What we did do, though, was immerse ourselves into the (literally) freezing cold water of a beautiful and remote Highland loch, and squeal with horror and utter glee as the water worked its magic. We swam the few meters from the shore out towards the mass of thick ice that was covering the surface of the loch and hauled our wet-suited bodies ungracefully onto its surface. It was thick – easily three inches in depth – and strong enough to support our weight.
On the ice, we were kids again – racing across its surface on our bottoms – a sort of forwards rowing nonsense. Then it was back into the loch through an ice hole, then off again to explore the edge of this huge frozen mass.
Breathtakingly beautiful, and breathtakingly cold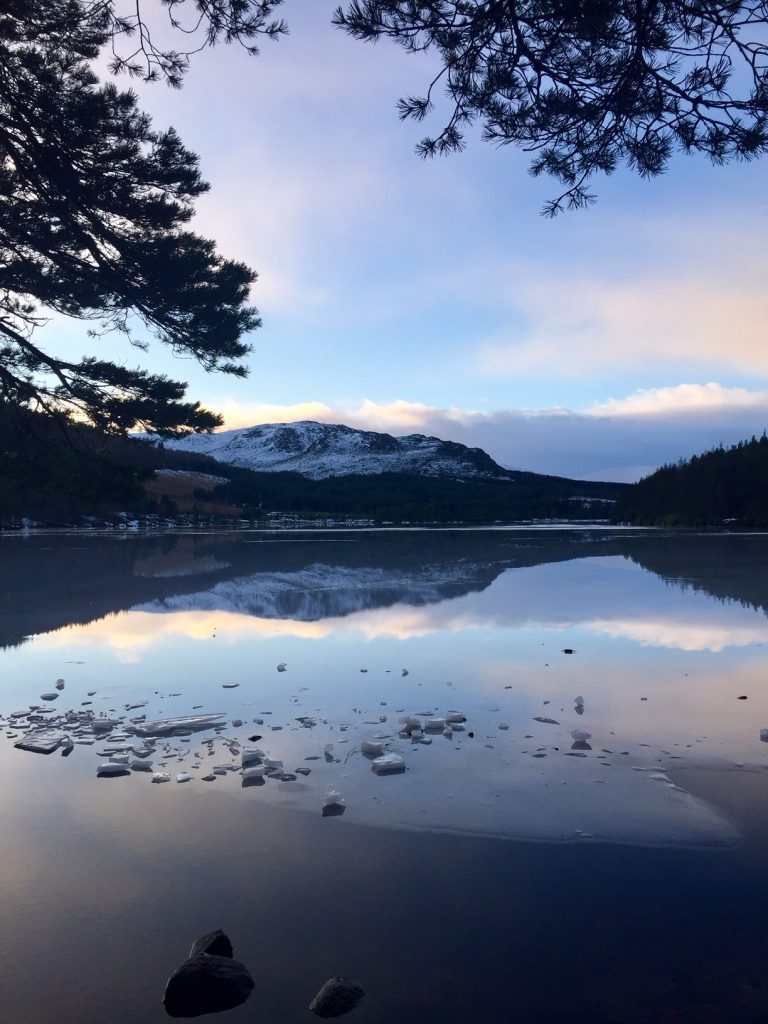 Instead of the frogs and lily pads of our summer swims here, there was nothing but a flat, frozen surface reflecting the purples and blues of the early morning sky. It was breathtakingly beautiful and breathtakingly cold.
My sister and I have been dunking ourselves into lochs, rivers and seas around Scotland for years now, and we know our limitations. We know how to read our bodies, to constantly check that the other is ok, and not to stay in for too long. We also know that 'too long' varies from person to person and from day to day. There is no 'right length' for a cold water swim – it depends on how you feel, the water and air temperatures, and the wind. We know that when we start to feel warm, it's time to get out, get dried, and get cosy with a hat, a hot water bottle and a mug of hot chocolate. So, we knew that we still had some time.
Time for skinnies…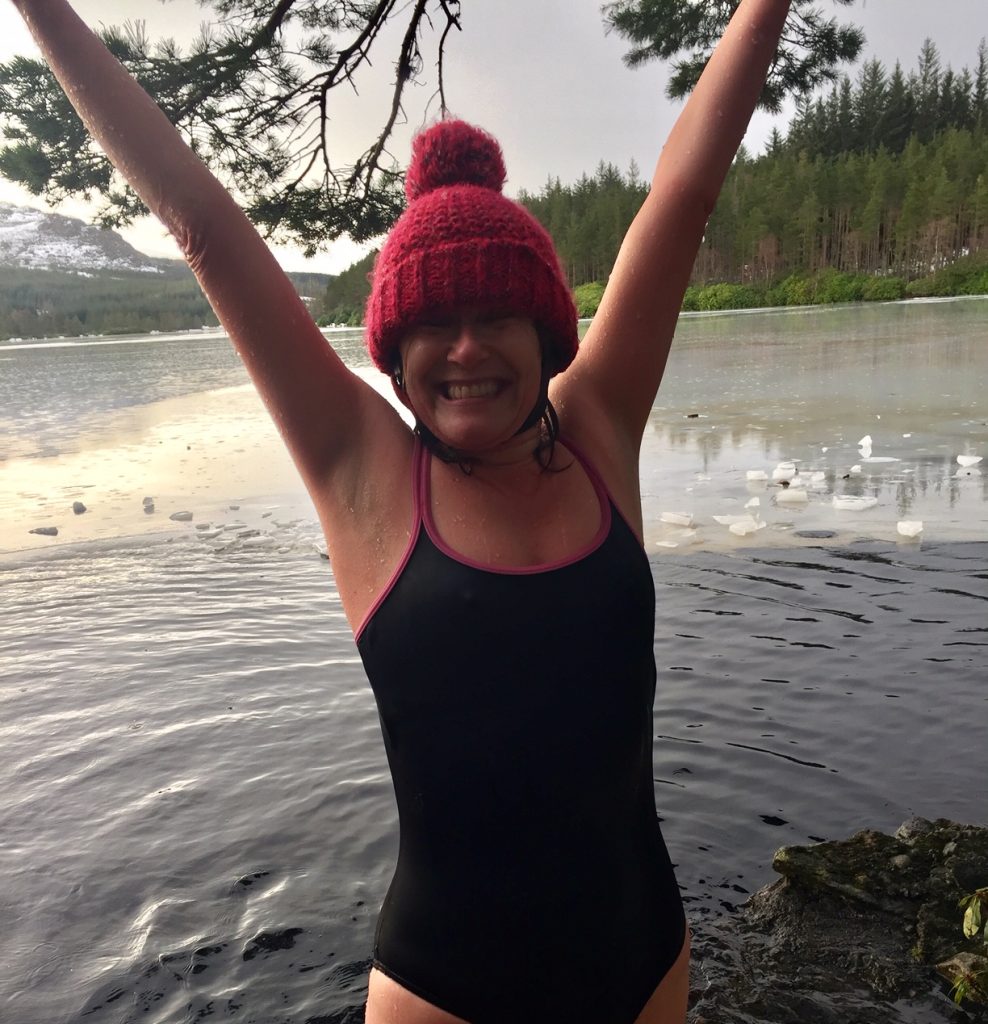 We'd already swum as far as the melt water would allow us to go, so what was left? I admit the idea was mine… it was time to ditch our wetsuits.
Wow. The shock was incredible. The water was so cold it felt hot, as if our skin was being pricked with dozens of red hot needles. As I write, I am desperate to feel it again. We stayed in just long enough to properly take in the sensations, and (of course!) to take photos. We couldn't get dressed for giggling. Our naked bodies were bright red, and the tingles were sensational, but our nerve endings were numb. Struggling into my many layers, it felt like dressing someone else.
Hot chocolate and cake, hot water bottles and heated car seats sorted us out. We said our goodbyes and drove home for hot showers. Since then, I've been giggling like a fool and can't stop looking at the photos. We're trying to co-ordinate our diaries to escape again soon.
Wild swimming has seen a massive surge in popularity since restrictions started to ease in June and July. With swimming pools closed the demand for wetsuits, neoprene gloves and swim floats began to outstrip supply, and membership of wild swimming Facebook groups have soared.
Part of me is delighted that so many others are experiencing the thrill and release of cold water therapy; that delight is tempered when I turn up at a favourite spot, one that we used to get to ourselves, to find swimmers already there.
It's not about exercise, it's about immersing myself in nature
For me, wild swimming isn't about exercise; I have cycling and workout videos to take care of my fitness. It's about immersing myself in nature. Lying on my back in a loch gives me a perspective on life that I can't get elsewhere, especially when an osprey flies overhead. It's a release, a feeling that I'm part of something bigger and a way to forget about my worries. Being in cold water helps me to be present, to connect with the here and now, and to relax. To relax deeply. And as a bonus, I get to catch up outdoors with my mad swimming friends, and my mad swimming sister. Result.
Note: If you fancy dipping a toe into wild swimming, there are plenty of online resources and groups to turn to for advice. Make sure you understand the body of water you're swimming in, be aware of tides and currents, know your limitations and never swim alone.
This is published by Highland News and Media in six of their newspapers across the north of Scotland. If you can, please support print media and the future of journalism by buying a paper! 
If you'd like to receive my mutterings in your email inbox every week, why not subscribe? It's completely free, with no spam, ads or other undesirables. All I need is your email address, which I'll never share.
Constructive feedback and comments are welcome, as are your stories and plans. Stay safe and well.