Superhuman kindness, and compassion
"I'm going to need someone with superhuman strength to help me get into my outfit."
That was the cry from the bedroom next door, as I was putting the finishing touches to my script for the Moray and Banffshire Heroes Awards in Elgin last week. There were just 15 minutes to go before the red carpet was rolled out, the skirl of the pipes filled the air, and we started welcoming the finalists and their friends and families to a glittering awards ceremony to celebrate the unsung heroes of the region.
But here, in a suite in Elgin's Mansefield Hotel, was a serious wardrobe emergency. Did it need my attention?
Thankfully, and as if from nowhere (but actually, from the bathroom), a Shielded Avenger and a Caped Crusader appeared. Batman held Captain America's shield while super-soldier Steve Rogers helped Marvel colleague, Ironman, to fasten his breastplate into place. Snap, snap, relax. Crisis averted.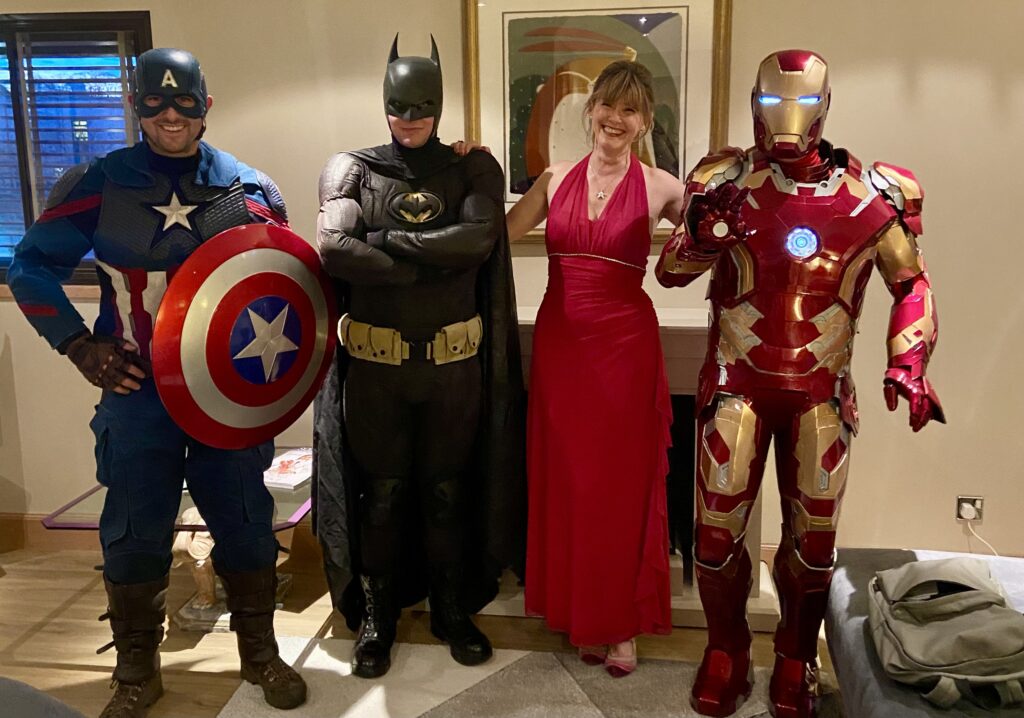 But these Superheroes were merely the side show
It's the first time I've shared a dressing room with Superheroes, and I hope it's not the last. But, heroic as these three were, they were merely the side-stars of the show.
Our mission that evening was to celebrate the unsung heroes of the region, the teachers and NHS workers, fundraisers and volunteers, emergency services workers, carers, and public servants, who regularly go beyond the call of duty to make the lives of others better.
Our mission was to celebrate future generations too; brave, adventurous, and selfless children, who will undeniably go on to do great things in their lives and communities.
Kindness, Compassion, Caring
Last Thursdays awards didn't celebrate the richest, the most successful, or most dynamic. Instead, the buzzwords of the evening were 'kindness', 'compassion', and 'caring'. It was truly humbling to be amongst so many people, for whom 'doing the right thing' isn't for glory or for profit, but simply to help others, to ease a burden, or to steer someone onto the right path.
If I have half the energy that Dot Bremner has at 83, I'll be thrilled. Dot teaches dance classes all over the northeast and was easily the best-dressed on the night. Her deafness and blindness don't hold her back.
If I had a quarter of the compassion and emotional intelligence that air-ambulance paramedic Kris O'Neill shows, I'd be a better parent, partner, and friend.
Hero of Heroes, Lorraine Taylor
And if I had the heart that Lorraine Taylor has, I'd have all the riches I needed. With over 250 children and young people through her care, Lorraine was voted not just Carer of the Year, but overall Hero of Heroes too. Lorraine couldn't be there on the night, so her grandson accepted her award. Like over 1500 others, she watched the ceremony on Facebook Live. I hope we did her proud.
We'll do it all again in Highland next week. If you nominated or voted, thank you. If you have been shortlisted, thank you for everything that you do.  We'll see you there! And if you can't be there but would like to watch live, the link will be on the Inverness Courier Facebook page.
Superheroes, know your place. The real heroes of the Highlands will be coming to town.
When worlds collide
I love it when worlds collide. Regular readers might remember that last summer I wrote about tiny Isabella Winfield from Moray receiving a £2million gene therapy in Glasgow. The story made international news, given the potential implications for babies born with Spinal Muscular Atrophy. The importance of the story to me was that the Glasgow Neurologist administering Isabella's treatment was my brother.
With Isabella's parents' permission, I shared the story here. So, when I realised that Isabella was a finalist in the Heroes Awards' Brave Child category, I had to say hello.
The wee toot is doing well. And as we were talking, another connection became apparent.
Sitting next to Isabella's parents, was someone who had been part of the pharmacy at Dr Gray's to approve Isabella's prescription. They'd had no idea of that link between them until we all spoke.
It's a small world. And a wonderful world.
Unsuitable for Coaches?
Lest you think that all I have done this week is hob-nob with heroes, the weekend took us north. I have a soft spot for Wester Ross, from Kinlochewe via Gairloch round to Dundonnell, and back to the Ullapool road. Those views. The sand on the beaches there tastes better than the regular stuff that blows into my sandwiches.
But – what's this? At the turn-off for Mellon Udrigle a road sign; 'Unsuitable for Coaches'.
I'm sorry, but as a coach, that's just plain rude. For the record, I went all the way along and back again, without a single hitch.
This column is published by Highland News and Media in six of their newspapers across the north of Scotland. If you can, please support print media and the future of independent  journalism by buying a paper, or subscribing online. 
If you'd like to receive it by email every week, sign up free. Just pop your email address into the widget on my home page here. And feel free to share.