All eyes will be on Inverness's most famous daughter Karen Gillan on Saturday night, when her new movie, The Party's Just Beginning, gets its world premiere at the Glasgow Film Festival.
A student of Eden Court's drama classes, Karen shot to fame in 2010 when she was cast as Amy Pond, the flame-haired, feisty companion of Matt Smith's Dr Who. Since then she has starred in several TV series, the Guardians of the Galaxy blockbusters, horror movie Oculus, rom-com Not Another Happy Ending and, most recently, Jumanji: Welcome to the Jungle.
Karen will be in Glasgow for Saturday's premiere, which she wrote and directed as well as stars in. And for her first feature film she has turned the focus on her home town of Inverness, and its desperately high suicide rate. Suicide rates are higher in Highland than across the rest of the UK and young Highland men are most at risk. Karen's aim was to start a conversation about why the suicide rate is elevated here in the north, and why young men are so vulnerable.
Billed as 'a fiercely honest tale of loss, grief and survivor's guilt', it's a tough topic for a writing and directorial debut. But it is classed as a comedy on movie website IMDB, so presumably won't be relentlessly tough to watch.
Karen plays Lucy, a young Highland woman who is struggling in the aftermath of her best friend's suicide in the depths of the Highland winter. The close bond between Lucy and her soulmate is shown in flashback as she struggles to find meaning in a world without him. Filmed on location in Inverness and Glasgow it portrays the grittier side of the Highland capital.
Anything that aims to shed light on the darkness of young people who find themselves in despair is to be welcomed. The film has yet to secure a release date, but as soon as it is released, Paul Taylor, the cinema programmer at Eden Court, is eager to show it in the city.
I won't be in Glasgow on Saturday but I'm keen to see the film. Not just to see Inverness on the big screen, or to see how Karen has approached her subject matter, but because Karen is right about the need for that conversation to be taking place.

The seed of the idea had been germinating in her mind for years, and she has talked about the research she carried out before started to write the script, into the motivation behind young men taking their own lives. One organisation that has sprung up since the film was written is Mikeysline, the text helpline which was born out of the suicides of two young friends two years ago. The charity has supported countless people since it was established. Just before Christmas they opened The Hive drop-in centre in Inverness, adding the services of a mental health nurse and experienced counsellors for those who find the courage to ask for help.
It is a tragedy that so many people who live among us feel this way, and ironic that, as Mikeysline's website explains, 'in this age of multimedia communications and social media, there are still young people feeling alone and abandoned by the system, unable to reach out for help and reassurance, unable to express their feelings'.
The more that mental health problems are portrayed on our screens or discussed in the media, the easier it might be for someone who is struggling to recognise that they are not alone in feeling the way they do. That might encourage them to share their feelings, which could be the first step to getting help.
I wish Karen every success with her movie – and Mikeysline deserve our continued support in their sterling efforts. Not one of us should ever feel without hope.
A massive THANK YOU to a pothole.
Potholes. They've not been getting great press recently. Have they ever been worse? Are they breeding?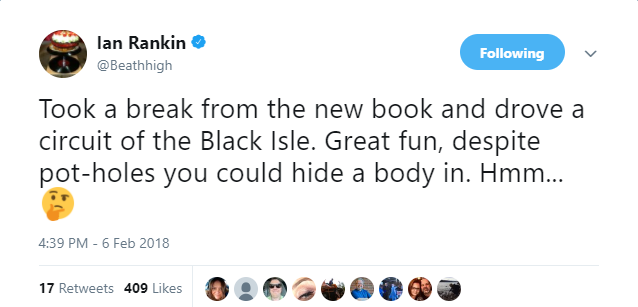 They can cause untold damage to vehicles, cause cyclists to fall off their bikes, and as Ian Rankin recently observed on Twitter, some on The Black Isle are large enough to conceal a body. Having spent last weekend in Applecross and driven there via Lochcarron, and back via Torridon (we couldn't get up the Bealach na Ba – the snow-gates were closed) I swerved to avoid enough potholes to last me a lifetime.
We were away with friends – five couples, five cars. Two came back with chipped windscreens, and a third came within inches of being scratched by the horns of half-tonne Highland Coo. But our little car came back – miraculously – in a better state than when it left Inverness.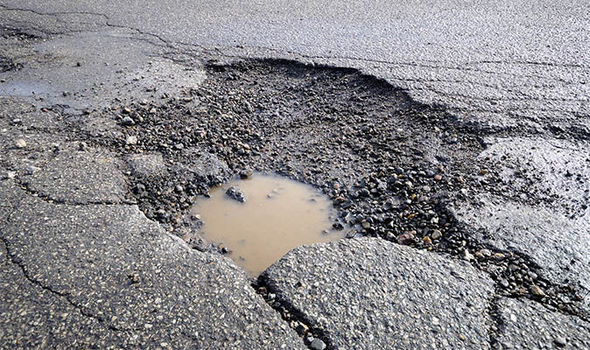 The speakers in the front of our car have never worked. But rattling over the potholes must have re-connected some loose wires. As we winced in anticipation of some damage, suddenly the radio sounded much clearer as the surround-sound kicked in.
I'm not advocating potholes as the cure for any of your own car's ills – in fact this new benefit to ours may prove to be short lived. But at a time when potholes are getting such stick I thought it was time they got some positive PR.
SUBSCRIBE to receive a weekly email with a link to my most recent column – just enter your email address in the  widget on my home page. Unsubscribe at any time – no dire consequences, I promise ;)
This column first appeared in six SPP Group newspapers week ended 23rd February 2018.