There's a song* isn't there, that no matter where you are when you hear it, or who you are with, or how long it may have been since you listened to it, as soon as you register its opening chords or its chorus, it takes you back. The chances are it will take you unawares. You might be in a shop or a restaurant, it might pop up on random shuffle on you iPod, or it will come on the radio while you are doing the dishes.
And like it or not, that song will take you places. It will stir emotions you had locked away, bringing a smile to your face, a tear to your eye or a pang of longing to your heart. It might take you back to your first slow dance – an awkward, heart-quickening, stumble around a school gym hall when you were too young to be that held close, but, after which, life was never the same again.
It might take you back to the summer after you left school. Just after you'd passed your driving test and could borrow your Mum's car to escape for a day at the beach with friends. Of course, you shouldn't have been playing the cassette that loud, but the car and the song and the sunshine and the lack of adults all spelled freedom. And that freedom was intoxicating.
A snatch of another song might take you back to your first heartbreak, after which you knew you'd never love again. Or to a cheap package holiday in the sun, to a grotty flat you shared as a student or to an illicit moment, or a lost love, or a friend you've since lost touch with. It's said that the songs you listen to as a teenager are the ones that will be with you forever. Brace yourself, then, for a lifetime of memories to resurface, if you enter the doors of Rip it Up.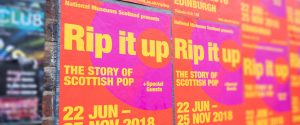 Rip It Up is a celebration of Scotland's pop music, and is on at the National Museums of Scotland till the end of November. From Lonnie Donegan and The Poets, through Aztec Camera and Finitribe, to Young Fathers and the Delgados, it charts the story, influence and downright brilliance of the music we Scots have given to the world since the 1950s. There are obvious inclusions – The Bay City Rollers, Altered Images, Simple Minds, Franz Ferdinand, Texas, KT Tunstall, Paolo Nutini, The Proclaimers, Deacon Blue and Runrig… and Edwyn Collins and Orange Juice, whose 1982 hit gave the exhibition its title. But there are bands and artists I'd never heard of, performances I'd forgotten I'd seen and artefacts and artists and video footage and trivia and posters and stage costumes to surprise, delight and impress.
I knew Lulu was tiny – she's as famous for that as she is for Shout – but seeing the high-waisted green and gold brocade trouser suit that she wore on stage in the early 60s, and the rose-red dress she wore with Take That, her tininess is brought home. Did you know that Rod Stewart was the very first artist to perform In Hampden? Were you there? It was in 1999 and the tickets cost £28.50.
Were you in The Phoenix in Inverness when The Proclaimers came to town? The poster is there as a memory of that night – tickets were just £3 back then. And did you realise that 1971s Chirpy Chirpy Cheep Cheep by Middle of the Road sold over 10 million copies worldwide, and is the biggest selling single of all time by a Scottish band or artist?
The exhibition is heavily focused on the central belt – you'd think that T in the Park was the only festival Scotland had ever seen. Where were the Belladrum memories, or the stories of the bands that performed in Inverness Ice Rink; or in The Capitol in Aberdeen, for that matter? Runrig got a mention though, with their brand of Celtic rock having endured through the decades.
If you can't make it to Edinburgh before the end of November, BBC Scotland have made a three-part TV series as a companion to the exhibition. The first episode was on Tuesday evening (it'll be on iPlayer if you missed it) and the second two are still to come. I'm going to set my telly-box recorder to capture the three hours and brace myself for the memory floodgates to open again. And then I suspect I'll hit the shops. There are gaps in my collection that I need to fill. And new musical memories that I need to make.
*Just for the record – my 'memory' songs. They're in no way my favourites – some of them I don't even like much, but they help me to time travel.
The one that instantly takes me beck… Fiat Lux, Blue Emotion.
The first slow dance… The Bee Gees, How Deep is Your Love (I told you I was too young…)
Escaping to the beach with friends… The Bluebells, Young at Heart
First heartbreak… The Beatles, Something
Illicit moment… Madonna, Crazy for You
Cheap package holiday… Ryan Paris, La Dolce Vita
Lost love… David Bowie, Let's Dance
Friend I've lost touch with… The Church, Unguarded Moment
SUBSCRIBE to receive a weekly email to receive my most recent column on a Saturday morning – just enter your email address in the  widget on my home page. Unsubscribe at any time – no dire consequences, I promise ;)
Feel free to share on social media or by email and to contact me with any feedback.
This post first appeared in Seven Days, published by SPP and issued with The Inverness Courier, The Northern Scot and four other titles across the north of Scotland, week ended 20th July 2018.