Lessons from coaching
In another part of my life, I'm a coach. I often encourage clients to focus on what they can do, rather than what they can't, and to ask themselves 'How would I like things to be?' That can help them shift their perspective from negative to positive. Why not let go of stuff that they can't change, and instead find and focus their energies into finding ways to make life better?
Some of us view ourselves almost as if we're passengers in our own lives, forgetting that we have the capacity to change, and to influence the lives of others. Change can be tricky though; it requires us to take responsibility, to have confidence in ourselves, and to look forward with ambition. And that applies at an individual level, but also with corporations, organisations and governments. To effect big changes, we have to have big ideas.
I love seeing people – individuals and communities – stepping up to take responsibility. People who spot a problem and wonder what they can do to help. People who roll up their sleeves to volunteer at food banks. People who get out and organise litter picks. People who see that there are plans afoot to reinvent their town or city centre, and offer positive, well-conceived ideas, rather than airly suggest that should that 'someone' should do 'something' about it.
Positive change requires responsibility, confidence and ambition
I loved last week's story about Kyle of Sutherland Development Trust purchasing the toilets, picnic spot and car park at Bonar Bridge for £1 so the community can develop it. As well as saving Highland Council £7000 a year in costs, a motorhome park and camp site will generate income for the community. A perfect, positive solution, demonstrating those essential elements of responsibility, confidence and ambition.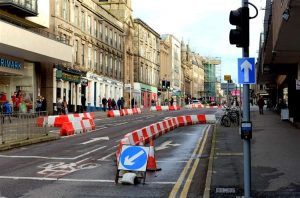 But what about Inverness? The city centre is currently a mess with tortuous one-way systems and bollards. Our High Street – like others across the country – is blighted with empty units, and there's a new question mark hanging over M&S now too. Our transport is disjointed and our riverside under-utilised. And our tourism offerings? Well, they're a little on the thin side…
What about Inverness city centre?
Are there plans for a bigger picture? Yes, there are. Last Friday's Inverness Courier revealed the council are developing an 18-step 'Manifesto for Change'. Plans might include developing or repurposing the Eastgate Centre and Falcon Square to provide a new civic space. The aim is to boost the recovery and future development of Inverness.
Great! I welcome these (currently secret) plans, but I hope they go far enough. I hope they will be as bold and ambitious as they need to be to help our Highland city to reach its true potential. Inverness can't just be a 'gateway' to the Highlands, or the start/end point on the NC500. It needs to be a destination in its own right. It needs to be a city people are proud to live in, to visit and to show off to others. To come to, and to want to return to. To stay in, and to want to stay longer.
But look at what Dundee is getting!
The same day as the news of the Inverness recovery plan was announced, Cornwall's famed and feted Eden Project announced it will create a Scottish home in Dundee. The project will bring an estimated 500 jobs to the city, which already boasts the world's only sibling of the V&A. With an anticipated 750,000 annual visitors, the economic impact of these new gardens to the Dundee region will be around £27 million a year.
Bravo Dundee. But why not Inverness? Is it because we lack the confidence and ambition of our Tayside counterparts? Is it that we think we don't deserve these world class facilities and attractions? Is it that our citizens are too concerned with potholes and bollards to dream of the benefits that something bigger could bring?
Time for an Inverness City Council?
Or could it be tied up with Inverness being just part of the wider Highland Council area? If Inverness had a dedicated city council, as Dundee, Aberdeen Glasgow and Edinburgh all have, its elected members would have the autonomy they needed to drive the city forward. They could do this without having to consider the needs of councillors from, for example, Thurso, Ardnamurchan or Strathspey who – quite rightly – want to see their folks getting a fair chunk of investment too. With separation of the region into two council areas, those wider Highland councillors could focus better on their wards, without fear of 'the big city' draining all available resources.
It may sound as though I'm pouring scorn onto plans that I've not yet seen, but that's not true. I'm urging Inverness to think big. Be more like Dundee. Take responsibility for a proper long-term plan of investment. Have confidence and ambition. And let our city become the vibrant, bustling centre of our beautiful Highland region.
To paraphrase the film, "Build it, and they will come".
This column is published by Highland News and Media in six of their newspapers across the north of Scotland. If you can, please support print media and the future of independent  journalism by buying a paper, or subscribing online. 
If you'd like to receive it by email every week, why not drop me your email? It's completely free, with no spam, ads or other undesirables. Just pop your email address into the widget on my home page here.
Feedback and comments are welcome, as are your stories and ideas for future pieces. Stay safe and well.