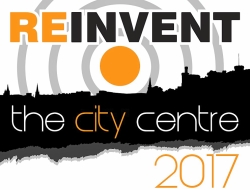 The Inverness Courier organised a public meeting last week to help progress their agenda to Reinvent the City Centre. If you've seen a copy of The Inverness Courier in recent months (and you may very well be holding one as you read this) you can't have failed to notice the campaign. Each issue carries fresh stories and ideas, and brings pressure on the council, business owners and absentee landlords to 'do their bit' to sort out the mess of the city centre, to make it a better place to live, work and visit. Whether you live in Inverness or only visit occasionally, you'll be familiar with the issues; our towns and cities across Scotland all face the same sea of empty shop fronts, problems with litter, seagulls and parking, and, less easy to remedy, a lack of 'vibe' or 'soul' caused by a lack of people. What can be done?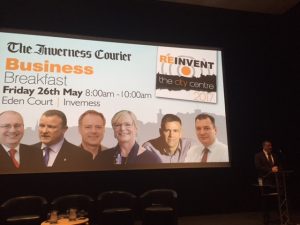 A panel of speakers, chaired by Editorial Director David Bourn, were invited to present their vision for a new and vibrant Inverness.
Standing MP and prospective SNP candidate Drew Hendry spoke of the need for an ambitious goal for the city with the people of the Highlands at its heart. A team needs to be set up, he said, to work out who or what we want to attract to the city, and the leadership of that team mustn't be allowed to buckle under pressure in implementing changes. Unfortunately (and we know Drew is busy with his campaign) he didn't proffer any answers, but he did cite the example of Bristol having managed change well.
Next up was Highland entrepreneur Charlie Barbour, who proposed a plan to tackle rubbish, seagulls and parking problems in the old town – all of which do cause a nuisance. Furthermore, he suggested the electronic tagging of people who persistently flout public drinking regulations to keep them out of the city centre. Surely tackling the root causes of homelessness and offending behaviour would be a better long-term solution than displacing the problem to the suburbs?
Diane Rawlinson was speaking on her last day as principal of Inverness College before taking on a wider role within UHI. With soon-to-be 300 students housed at Inverness campus on the outskirts of the city, she felt there were opportunities for city centre businesses to lure students into their premises at evenings and weekends – why not create an atmosphere akin to Glasgow's Ashton Lane? That might have been easier to achieve had the student accommodation been built in the city centre rather than on campus, as Charlie Barbour had proposed. As it stands, a fair chunk of the students' disposable income will be spent getting home at night; the provision of public transport to the campus is woeful.
Jackie Cuddy, Vice Chair of Inverness BID and General Manager of The Eastgate Centre spoke of a city centre being 'a shopping centre without a roof on it' and the threat to the city centre coming from out of town malls. From her there was a desire to work with critical and constructive partners to achieve a successful city centre, with enhanced customer service at the heart of any solution.
And finally we heard from Colin Marr, Chair of Visit Inverness Loch Ness, and Chief Executive of Eden Court, who shared his visions. These were threefold; first, to substantially redevelop the Bridge Street buildings. Second, to landscape the land from Eden Court and Inverness Cathedral right down to the riverside and to develop the space between them into a purpose built museum and art gallery which would open onto the – newly opened up – Northern Meeting Park.
And third, for the Highland Capital to invest in a work of public art on a par with The Kelpies or The Angel of the North. That art doesn't need to be a tilting pier, but it does need to be impressive. The economic impact that The Kelpies have had, drawing over 750 000 visitors to the area every year, cannot be underestimated. Look at the excitement the teeny tiny Kelpies attracted when they toured Scotland last year. Why can't we have something of our own?
I think I know the problem, and it's that for whatever reason, historical, cultural or any other, we lack ambition and confidence. We think public art, safe, clean streets and pavement cafes are fine for others, but somehow we don't deserve that for ourselves. Just think of what you enjoy about a city break – and here are some of mine. In St Helier in Jersey it was a delight to wander the cobbled streets of the old town before enjoying the sculpture in the square by the harbour. No trip to Paris would be complete without a stroll by the Seine and a trip to see the marvellous Stravinsky fountains near the Pompidou. In Amsterdam the architecture and canals take centre stage, but there are world class museums too – the Rijksmuseum, Anne Frank's House and the Van Gogh. And in Dundee? The only outpost of London's famous V&A opens there next year, and it's only one element of the city's £1billion, 30 year regeneration plan.
If they can do it, so can we. After all, who else has Ness Islands? But there has to come a time when the talk of working together to create a vision stops, and the action starts. We deserve it.
SUBSCRIBE to receive a weekly email with a link to my most recent column – just enter your email address in the wee widget onthe left hand side of my home page.
This column first appeared in six SPP Group newspapers week ended 2nd June 2017.