I'm utterly relaxed. I'm sitting writing this on a camping chair with my feet in a loch. Our van is parked off the road and there's a promising whiff of bacon in the air – Mr Marr is on catering duties. It's the sort of summer day when it's easier to see the shoals of tiny fish if you look for their shadows against the sand on the bottom.
With the only interruptions coming from birdsong and the slight breeze in the branches overhead, this is an excellent spot from which to contemplate some of the reactions I've received from last week's column.
Last week I wrote urging Highlanders to 'think big'; to be confident and ambitious about plans to redevelop Inverness and to perhaps channel some of Dundee's creativity. Over the past decades Dundee has demolished tower blocks and industrial buildings flanking the silvery Tay, making way for magnetic new projects, including V&A Dundee and now the new Eden Project. Dundonians are systematically trading jute for design, and obsolete industry for tourism.
Why not Inverness?
"Why not Inverness?", I asked. And my question clearly struck a chord. My postbag has been overflowing with your suggestions, several of which centred around our own waterfront, particularly the Beauly Firth.
And no wonder. Down river from Inverness City Centre, past the railway bridge, right along the waterfront to the stadium, the views are stunning. Many people suggested to me that these port buildings and industrial units should be moved, knocked down or redeveloped to make way for hotels, cafes and restaurants. There were suggestions of a Highland Heritage Museum akin to Newtonmore's – even a campsite with an artificial sandy beach.
I get it, the views of the Kessock Bridge and the Black Isle, and up the Beauly Firth to the mountains beyond, are stunning and it's gorgeous to watch the wildlife, and pleasure boats from the marina. But this is a working port, and these businesses are people's livelihoods. Our economy needs their input, so we can't bulldoze it all for a walkway and Highland version of the Eden Project, can we?
'Embryonic' plans for hotels/leisure at Port of Inverness
Actually, such radical action might not be necessary. A quick look at the 'Future Development' pages of the Port of Inverness's website suggests there are 'embryonic' plans for hotel, leisure and retail development, with vacant and development sites earmarked. I'd vote for leisure over more industrial port activity – Inverness should be an unmissable destination for smaller cruise liners and pleasure yachts.
Other responses to my column compared our Highland city to others abroad. We need pedestrian areas like Seville, suggested one. How would that go down with Highland taxi drivers? Another talked about Beziers in France, which has a population just 10,000 greater than Inverness, but a go-getting mayor. He commissioned the town's own version of the London Eye, and established a 'rue des artisans', offering vacant shops to local artists and producers, creating a vibrant, bohemian quarter, plus income for local micro-businesses. A win!
A civic square for Inverness
Could those Highland 'artisans', plus pubs, cafes and more be accommodated in street-level shops of a new civic square, one suggested by local writer Mark Smyth*? Smyth is a Dubliner who has seen first-hand what can happen when people stand up for their cities. There were plans to demolish the Temple Bar region of Ireland's capital to make way for a transport hub. But public pressure meant the plans were eventually scrapped, saving the historic area.
If you've been to Dublin, you'll have wandered the thriving, cobbled lanes of Temple Bar; it's stuffed with bars, indy shops and cafes. Dubliners recognised that this was a better resource for their city than a bigger transport hub, and Smyth thinks we Highlanders should wake up to that too.
A space to live, work and play in
Smyth has sketched designs for a new civic square in the spot currently occupied by TK Maxx and Sports Direct. The site is part of the 'Inverness Masterplan' to create a new, multi-million pound transport hub. But is that really what's best for our city centre? And for the wider Highlands?
With flats and accommodation above street-level shops and cafes, outdoor tables, musicians, fairy lights and winter markets, Smyth's proposed civic square would be a space in which to live and work, to meet friends and celebrate, and to relax. I'd miss TK Maxx, but there's space for it, surely, in Eastgate's empty units…
Ideas are what's needed, plus proper public consultation and investment to make the best ideas happen. Who's in?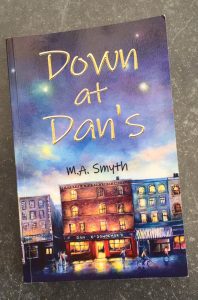 *Mark Smyth's new novel 'Down at Dan's' is just published by Blossom Spring Publishing.
This column is published by Highland News and Media in six of their newspapers across the north of Scotland. If you can, please support print media and the future of independent  journalism by buying a paper, or subscribing online. 
If you'd like to receive it by email every week, why not drop me your email? It's completely free, with no spam, ads or other undesirables. Just pop your email address into the widget on my home page here.
Feedback and comments are welcome, as are your stories and ideas for future pieces. Stay safe and well.