Jeremy Clarkson. He's (ahem) growing on me.
It's easy to have an opinion about Jeremy Clarkson; he's been part of our lives and making a fortune from it for the past 35 years. Last week I'd have told you he was outspoken, obnoxious, irrational, and untrustworthy. But something changed. My opinion today? He's funny, self-deprecating, and caring in ways I never imagined. And pretty good at taking it on the chin.
So, what changed? For some unfathomable reason (was it maybe the trailer?) I tuned in to watch Clarkson's Farm on Amazon Prime.
Let's rewind a little. Top Gear and Grand Tour left me cold. I'm no petrol head, so there was little interest for me in a bunch of know-it-all, overgrown boys idolising random incarnations of the combustion engine in the name of entertainment. Having said that, I did occasionally catch the 'Star in a Reasonably Priced Car'. The Saturday Kitchen version of making speedy but inedible omelettes never produced the same thrill as John Bishop beating Tom Cruise and Cameron Diaz round the track.
But I'm digressing. The point is this. Within minutes of starting to watch Clarkson ham-fistedly try to farm his 1000-acres in the Cotswolds, I had succumbed to the charms of the unhealthy, ungainly, unreformed, fag-puffing 60-something.
Farming? He hasn't a clue
In case you've missed it, the premise is simple. Clarkson has owned his farm since 2008, but until 2019 it was run by a proper farmer. When that farmer retired, Clarkson decided to farm the land himself. Cue a conversation with Amazon, roll the cameras, and 'action!'. And – if Clarkson's Twitter feed is to be believed – there's no one more surprised at the series' success than the man himself.
Clarkson hasn't a clue about farming. But, true to form, that doesn't stop him from jumping in with both size-12 wellies and his wallet, assuming he knows best, and being left bemused and bewildered by the consequences.
Why not just do big sweeping turns at the end of the field when 'tractoring' to save time? Why not buy a Lamborghini tractor if you can afford it? Why not invest in a few sheep to save some money on cutting the grass? As Clarkson makes mistake after mistake, we learn from them. I've probably learned more about farming from these first few episodes than from teenage years picking tatties, or decades watching Countryfile.
Enter stage left, Kaleb Cooper
So far, so TV gold. But it only gets better. Enter stage left, Kaleb Cooper, a 22 year-old farm worker, with his own tractor, hens, and pigs. Far from being intimidated by Clarkson's bluster and celebrity, he holds nothing back in pointing out his boss's mistakes and their impact. Kaleb has more farming knowledge, practical intelligence, and business sense than his tender years would suggest, and together with Charlie the Land Agent, they steer Clarkson from the brink of each calamity.
We've had to ration ourselves to a single episode a night to eke out the joy, but as Clarkson's respect for the land grows, so does mine for farmers.
My masks are staying firmly in place.
On Monday, as I write this, Scotland has six of Europe's top ten highest Covid infection rates, two are in England, the others are in Moscow and Kazakhstan. Boris Johnston is talking of England's 'Freedom Day' on 19th July. From then it will be a matter of personal choice whether masks are worn.
I have watched bare-faced crowds watching tennis and football and seen shoppers stride past sanitation stations on their way into crowded supermarkets. A handful of Inverness restaurants are closed again because staff have tested positive. Raigmore and Dr Gray's hospitals are at 'code black'.We're miles from 'getting back to normal', no matter how much politicians want that to be the case.
I've had the virus and been double vaccinated. But what about people who can't be vaccinated, or are immune-suppressed? Whatever happens in Scotland on August 9th, I'll continue to wear my mask in crowded indoor spaces. Not just to protect myself, but to protect others too. It's the only responsible course of action.
Lido dreams.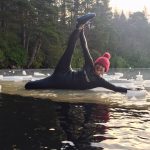 Having spent several Sundays this winter breaking through the ice on frozen lochs to get my fix of cold water therapy, I loved seeing the photos of Wick North Baths' Open Day last weekend. The restoration of the facility that first opened in 1904 will be an amazing boost to swimmers across the region. It'll allow everyone to get the benefits of a dook in cold water without having to worry about tides, boats, and basking sharks.
Bravo to the volunteers and supporters of Friends of the North Baths. Now, can we have a lido in the Beauly Firth please?
This column is published by Highland News and Media in six of their newspapers across the north of Scotland. If you can, please support print media and the future of independent  journalism by buying a paper, or subscribing online. 
If you'd like to receive my musings by email every week, sign up! It's completely free, with no spam, ads or other undesirables. Just pop your email address into the widget on my home page here.
Feedback and comments are welcome, as are your stories and ideas for future pieces. Stay safe and well.