It would have been easy to have lived in a bubble of "Brits abroad" on our beach-club holiday in Sardinia this month. Although the resort staff were Italian, the guests were exclusively from the UK and Ireland. Buffet breakfasts and lunches were included every day and on restaurant nights off, if we didn't fancy the walk along the beach to the seafood restaurant or the stroll up the hill to the pizzeria, the pool bar in resort laid on serviceable BBQ dishes.
The surroundings were gorgeous, so many were happy just to stay in resort. Not me. Even on activity holidays I like to get a flavour of the country I'm in, and there's no better pace at which to do that than by bike. Organised cycle rides took us high into the mountains or alongside sandy beaches and to pretty towns with medieval castles. We stopped at harbours where pleasure boats bobbed next to fishing boats. The views – and the descents – were magnificent.
We refuelled in village cafes with coffee and ice-cream, surrounded by bemused locals who shook their heads and toasted us with chilled 11am glasses of beer.
Along the route of the Giro di Sardegna we passed herds of goats, their bells jangling. We passed reservoirs, olive groves and vineyards, and fields that advertised 'pick your own' fruit and veg. And we passed signs galore for 'Agriturismo' – signs which pointed down winding dirt tracks, and which promised local 'cucina' in shady surroundings.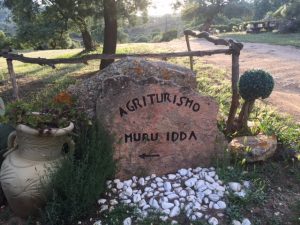 This required investigation. As luck would have it a couple of my new cycling buddies had visited a Sardinian Agriturismo before. The reports were promising, so we collected some pals, booked eye-wateringly expensive taxis, and set off for a culinary adventure.
It's the sign of a great night when you get home with a belly full of good food and a face sore from laughing. We were English, Irish and Scots, and we managed to talk about politics, religion, parenting, the banking crisis, Brexit and the World Cup without falling out. But it would have been hard to have been cross when such delicious food and wine was being served up in such beautiful, if rustic, surroundings.
Agriturismos have been part of the Italian tourism offering since 1985, when too many farmers, struggling to make ends meet, were abandoning their land for jobs in the cities. A series of grants, loans and tax breaks helped to encourage them back to their rural homes and helped them convert out-buildings into B&B accommodation and/or install kitchens for preparing evening meals.
Our chosen Agriturismo, Muru Idda, charged €35 per person for a fixed menu, including unlimited wine – about the same as the pizzeria was charging us for pizza and Prosecco. But the comparison ended there.
At Muru Idda we gorged on eight delicious courses, starting with home-cured salamis, fresh bread, cheeses, salads and olives, through pastas and a casseroled lamb dish. Then there was a break, in which we were invited to explore the grounds, to see the goats, pigs and sheep, or sit by the pool sipping a chilled glass of Muscat. Meanwhile the centrepiece of our banquet was being carved – a suckling pig, roasted over an open, olive-wood fire. Then followed more cheeses, desserts and coffee, all chased down with shots of liqueurs; tart limoncello, sweet and fruity bramble liqueur, and throat-numbing grappa.
Unsurprisingly, over the past 30 years the impact of the Agriturismo system has been dramatic, and overwhelmingly positive. Establishments are regularly inspected to ensure the food and accommodation meets the highest standards. The meals must be made predominantly from the food produced and grown on the farm, but excess cheese, bread, olive oils, preserves and wine can be sold to be taken away. Tax breaks mean that it is much better value for tourists to be eating in an Agriturismo than in a traditional restaurant, and the return the farmer gets is higher than from selling their produce to market.
It's a win-win situation – a better result for both farmer and tourist. Was it our holiday highlight? Very probably.
Crofters in the Highlands are known for their inventive ideas, and it has become essential for many to diversify in order to survive. Farm Stay UK is well established, and many farms let out holiday cottages to increase income. But imagine countless opportunities around the north of Scotland to enjoy home-reared, home-made produce, cooked and served on the land where it was grown. I'd buy into that. Bring on the tax breaks!
SUBSCRIBE to receive a weekly email to receive my most recent column on a Saturday morning – just enter your email address in the  widget on my home page. Unsubscribe at any time – no dire consequences, I promise ;)
Feel free to share on social media or by email and to contact me with any feedback.
This post first appeared in Seven Days, published by SPP and issued with The Inverness Courier, The Northern Scot and four other titles across the north of Scotland, week ended 29th June 2018.