Cullisse Highland Rapeseed Oil
Olive oil. For decades it has been the one ingredient that cooks have said they would least like to be without. An onion sautéing in olive oil has long been the starting point of most of my recipes. But move over, Olive, there's a new kid in town. And she's Scottish, and stealing your crown. Ladies and Gentlemen of the kitchen, it's time to make room on the shelf for Cullisse.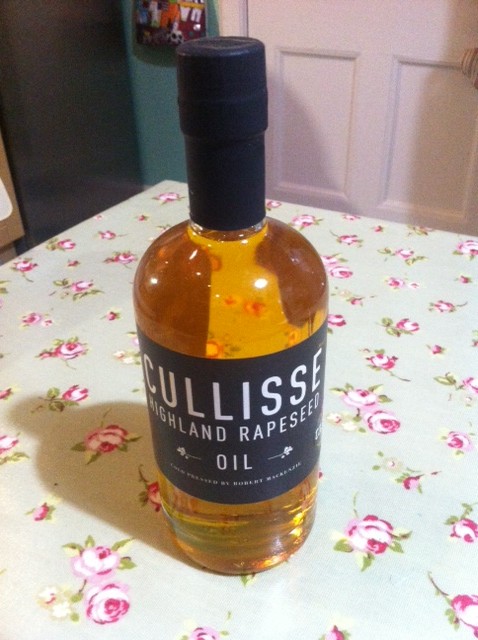 I first came across this rich rape seed oil while hosting the first Highland and Moray Food and Drink Festival, and it has since been a regular ingredient on stage during the Chef's Live Kitchen demonstrations, pairing well with fish and venison, lamb and fresh vegetables. The first impact comes from the rich golden colour, and then there's the flavour, which is smooth and nutty.
Cullisse is Scotland's most northerly produced rape seed oil, made from rape grown on the Mackenzie family's land in Easter Ross in the Highlands, and gently cold pressed on the farm. Already the product is winning awards, and no wonder.
The Cullisse website is awash with recipe ideas, but without a doubt, it makes the best roast potatoes I have ever tasted. These are a great introduction to the ingredient, and a great way of showing off that fantastic gold colour.
Here's my method…a method so good, that even my mother-in-law now uses it.
Cullisse Roast Potatoes and Sweet Potatoes.
Ingredients:
Potatoes and sweet potatoes – peeled and cut into chunks the size of a tangerine. You'll need about three chunks of each, plus seconds, per person, if you're as greedy as we are.
Cullisse Highland Rapeseed Oil
Flaked seasalt
Method:
Bring a large pot of salted water to the boil and add the potatoes and sweet potatoes.
At the same time splash a liberal helping (maybe 3 tablespoons) of Cullisse onto a large baking tray and place it in your pre-heated oven – around GM7.
Bring the potatoes to the boil and simmer for 5-6 minutes.
Drain the potatoes, then replace the pan lid and shake gently to rough up the edges.
Carefully pour the heated Cullisse into the pan over the hot, drained potatoes, and season with flaked seasalt. Shake again (gently!) and tip the contents back onto the hot baking tray, making sure you scrape out every last drop of oil, salt and crushed potato.
Roast in the oven for 1 hour 15 minutes or so (depending on your oven) turning them occasionally to make sure all sides are crispy. The sweet potatoes will be softer than the tatties – they'll also caramelise beautifully.
Serve with a roast. Delicious.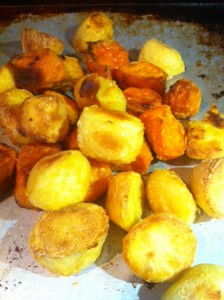 Cullisse boasts many health benefits too – it contains half the saturated fat of olive oil, and is a rich source of Omegas 3, 6 and 9 and vitamin E. And then three's the warm fuzzy glow of knowing that 20p from every bottle you buy has been donated to Farm Africa, a cause close to Robert Mackenzie's heart.
For a list of stockists, click here.
This post is part of a series commemorating 2015 as Scotland's Year of Food and Drink.
If you know of a product that you think I should be featuring, please get in touch…email me, send me a Tweet, or comment on my Facebook page.