Wild venison. It's the monarch of meats; lean, flavoursome and nothing but nutritious. Its appearance on menus heralds the onset of autumn and winter. Time to coorie down, stoke the fire, and enjoy its rich flavours alongside other seasonal ingredients; root vegetables, brambles, roast squashes and pumpkins.
But clever charcuterie has elevated this seasonal meat into a year round delicacy, and for my buck, no-one is producing finer venison products than Anja and Jan Jacob from Great Glen Charcuterie in the Highland village of Roybridge.
Since 2002 the couple have been sourcing wild venison from local estates, and air drying it into an impressive array of award winning salamis, chorizos, smoked meats and more.
Available from quality independent retailers and from their own online store, the branding and packaging matches the company's ethos. My parcel arrived by post; the brown paper wrapping and old-fashioned string were unwrapped to reveal an inviting selection of vacuum packed treasures. All we needed were some friends for the taste test.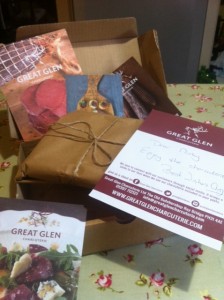 There's no such thing as a free canapé in this house – our guests were issued with a comments sheet and marking grid to go with their pre-dinner claret. The fire was on and I had followed Anja's recommended serving suggestions.
At this point I'd love to show you a photo of my venison creations; sadly I turned by back for a minute, and this was all that was left.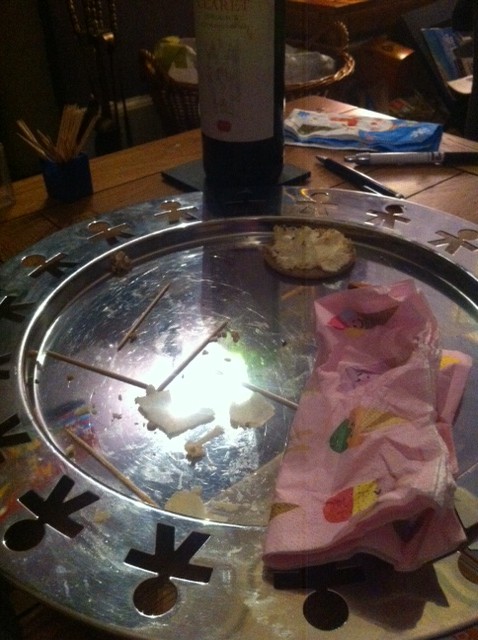 If that's not encouragement enough to seek out the Great Glen Game online shop or have a friendly word with your local deli to encourage them to become a stockist, read on for the results…
Venison Charcuterie – Taste Team's Results
By a stag's whisker, the Green Peppercorn Salami scored highest in the taste tests, with an impressive 90%. I served it both on its own, and rolled around matchsticks of fresh pear and blue Stilton, It was praised for its soft, moist texture and gently balanced spices, and lack of fattiness. 'I'll buy this again' was the most common reaction.
Just behind it with 89% was the Venison Chili Chorizo. I sliced the sausage into £1 thick slices, and served half raw; the other half dry-fried till lightly crisp. Half our company preferred it raw; the other cooked, so you'll need to double up your order and experiment. Again the texture and flavour balances were highlighted – it was described as 'tasty, rather than fiery', with a 'long, warming aftertaste'.
The Venison Bresola was not far behind it's slightly spicier cousins, scoring a worthy 83% in our poll. I served this simply, with shavings of salty parmesan and a few fresh basil leaves, and also on top of seeded oatcakes with Black Crowdie. Both were massive hits; the panel particularly enjoying the soft texture, although the pepper in the Black Crowdie somewhat dominated the flavour – stick to the plain variety!
Bringing up the rear, but somewhat unfairly, was the Venison and Pork Chorizo. Its flavour was excellent, but it was marked down for its higher fat content as it was created for cooking, not canapés. So I kept some back from the testers and created a simple pasta dish – I fried the chorizo in cubes, added passata, finished with cream and basil and topped with parmesan – and it was significantly more successful; here, the flavours sang. As an ingredient, I'd rank it with the best cooking chorizos on the market.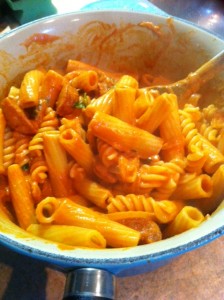 Congratulations to Anja and Jan on the creation of such a fantastic range, and best of luck to them with the continued success of their innovative business.
If you'd like to share the word about Great Glen Charcuterie, click on the buttons below.
And if you'd like to be featured in a future Food & Drink Heroes post, email me – nicky@nickymarr.co.uk